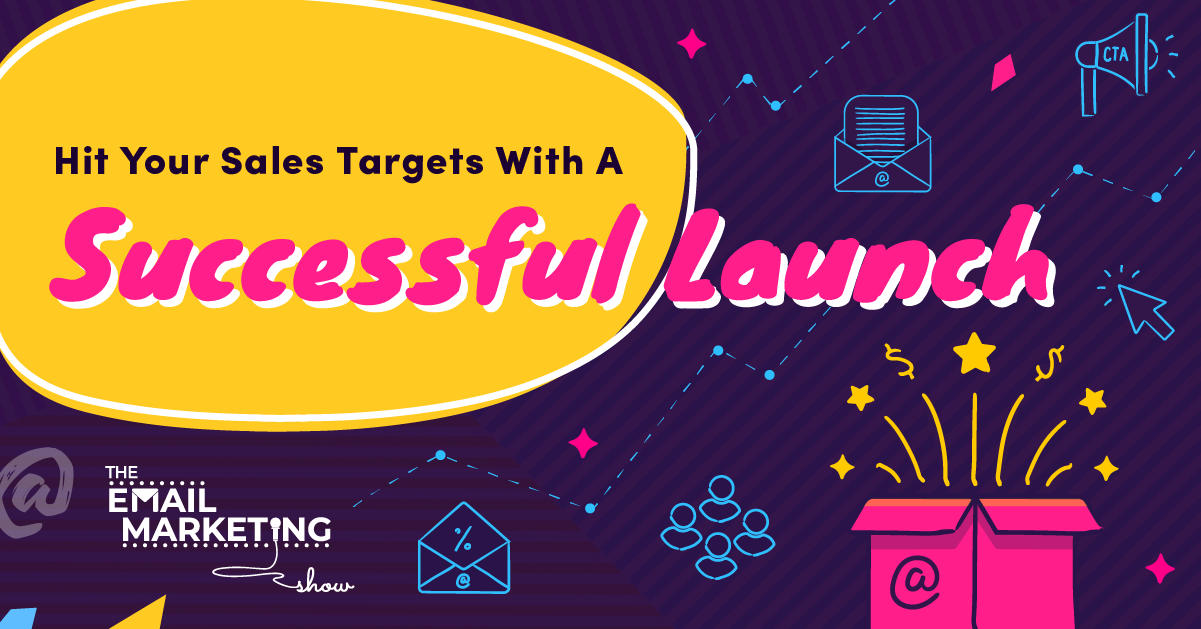 How To Achieve The Most Successful Launch (Ever) And Hit Your Sales Targets – With Melissa Litchfield
Did you just launch a new membership, course, or programme? Was it a successful launch? Or did you not hit your targets? You're probably looking at the sales and revenue you made, but what about all the other metrics? You could have a traffic problem, an issue with your offer, or perhaps with your conversion. But how do you find out?
Our guest Melissa Litchfield tells us exactly what metrics we need to look at and what they all mean.
Ready to find out?
Let's go!
SOME EPISODE HIGHLIGHTS: 

(0:13) Want a FREE resource to get more clicks on your emails? Check out Click Tricks.
(3:20) Did Melissa really cry for one hour when one of her favourite Nemo slippers got covered in vomit?
(5:39) How can you tell if your launch was successful?
(8:08) What's hiding behind your numbers?
(9:41) What metrics help you decide whether your webinar was successful?
(14:39) What about your email metrics?
(17:33) Remove friction and make buying from you easy!
(20:44) Ask for one action at the time.
(22:00) Should you focus on your email list growth?
(28:10) Subject line of the week with Melissa Litchfield.
How can you tell if your launch was successful?
Our friend Melissa helps people with launches, and more often than not, her clients will tell her they had a 'failed launch' because they only made a certain amount of sales. They're looking at the end result, i.e. the revenue or how many students or members they brought into their program. But that's not all there is to it!
And that's why Melissa asks a lot of questions about what went on during the launch. For example, how many people showed up live at your webinar? How many dropped off within the first 5 minutes? If a lot of people do, then you might have a 'hook' issue. How many people stayed until the end of the webinar, and how many spots of your program did you sell live?
When you're making sales on a live webinar, it means you're hitting your audience's pain points and helping them see that you've got the perfect solution for them. But if you find you didn't sell a lot of spots, then maybe you need to re-work your pitch.
And if your webinar was absolutely perfect, great! But what about your email metrics? What are your open rates and click-through rates like? Did enough people open your emails? And did at least 2% of them click through to the offer page? It's only when you're able to look at several steps within your funnel and your email sequence that you can fully nail down what you need to tweak or fix to have a more successful launch next time.
What's hiding behind your numbers?
If you feel you didn't make enough sales because you didn't have enough people on your webinar, how many people had registered? If that number's less than 100, maybe you have a traffic issue. And that means you need a bigger pool of people signing up for your free event.
Often, Melissa finds, you'll have multiple things happening within your sales funnel, so it's important you don't just look at the end result and the money that was generated. You've probably spent a lot of time preparing for a launch, and if it doesn't go the way you'd hoped, it doesn't mean you've wasted your efforts. You might have a messaging problem on your sales page, for example. You just need to know what needs tweaking so you can improve your funnel and make more sales in your next launch.
What metrics help you decide whether your webinar was successful?
One of the first things Melissa asks her clients when checking whether they had a successful launch is how many people were registered for the webinar or other 'hype event', such as a masterclass or a challenge. Once you know that, you can start diving into the metrics of the live event. For example:
What was the engagement rate?
How many people showed up for the event?
How much did you make per person? I.e. what were your 'earnings per registrant'? You can work this out by dividing how much you made in your launch by the number of people who registered for your webinar.
And how many people dropped off within the first 5 minutes?
One thing worth pointing out, Melissa says, is that metrics do change when her clients automate their webinars and make them evergreen after having a couple of successful launches. In Melissa's experience, running traffic to a recorded webinar can create different results.
What about your email metrics?
When it comes to evaluating email metrics, open rates and click-through rates are important. For a live successful launch, the typical click-through rate on a sale email is between 2-6%. But you may need to lower your expectations for automated webinars, where the excitement and engagement aren't as high because there's no active set time after which the cart is closing.
Your click-through rate gives you an indication of how strong your offer is, but there are other things to look at. For example, what's your call to action? Are you giving people something for free to download? Or is it a paid offer? And if so, is it clear that they have to pay? If you don't make that clear, you might have a high click-through rate but also a high abandonment rate because people decide not to go through and buy.
Often, increasing your click-through rate can be as easy as sending super engaging storytelling-type emails that speak to your audience. Make sure people resonate with your message and show them not only that you have the perfect solution for them, but also that you've helped others in the same situation (social proof).
Remove friction and make buying from you easy!
Webinars or challenges typically have multiple steps that we push people through. And the truth is that there is potential for people to drop off at every step of the process. But this also means you also have an opportunity to optimise your funnel.
A few years ago, for example, we hosted a 5-day challenge in a Facebook group. Without thinking too much about it, we introduced a small step between people registering for the challenge and them getting into the Facebook group. And while that didn't seem like a big deal, it crippled the number of people who actually got into the challenge!
So don't do what we did. Instead, make it super simple for people to register and implement a one-click registration process, especially if you're driving existing subscribers to a new challenge or webinar. And for your new subscribers, think of creating some sort of video on a Thank You page where people can just click on a button and join your Facebook group. Let them know that the content they're looking for is to be hosted in a separate group, and all they have to do is click and join.
A piece of software that Melissa recommends using for this is called URLgenius. Instead of sending people to a separate browser where they'd be asked to sign into their Facebook account (which could be a barrier), you can create a link that opens their Facebook app. So think of anything you can do to remove barriers, reduce friction, and make it as easy as possible for someone to go from registrant to challenger. Because every time you add a step, you're potentially creating friction and causing people to leave the process.
The Top 10 Books To 'Power Up' Your Email Marketing
10 book recommendations that will improve all areas of your email marketing (including some underground treasures that we stumbled upon which have been game-changing for us).
Ask for one action at a time
We always ask our subscribers to take a lot of action, don't we? We might want them to join a Facebook group, take a survey to find out what they're currently struggling with, whitelist our email address so our emails don't go into spam, etc. So do these things one by one to avoid putting people off.
When you're giving people something for free, for example (such as a download that people can consume whenever it's convenient to them) it's a less 'taxing' demand on their time than asking them to register for a 60-minute live webinar that they need to attend at a specific date and time. And while there's an intent to consume the content and eventually buy, there are only so many things that people can process at any one time.
So when you're asking your subscribers to do something, remember that everyone else is also doing email marketing. People are being asked to do things from all over the place! Your job is to reduce friction so people take the action you want. So if you need someone to register for a webinar but also want them to fill in a survey because that's part of your process, make sure that one thing leads to the next, rather than them all being asked at once.
Should you focus on your email list growth?
So when you're evaluating whether you had a successful launch, take a step back. Don't just focus on the end number – look at where the bottleneck is. Are there any issues or steps you can optimise?
Melissa finds that often her clients don't have a big enough pool of people in their audience – there simply aren't enough registrants to make the sales that you want to make. And that means you have a traffic problem, rather than a conversion rate problem. Plus, in order to fully evaluate a situation, you need data. Sometimes it comes down to the numbers at the top of the funnel. And it's only when you get to the bottom of the funnel that the percentages and the data come in.
In simplistic terms, if you want 100 people watching your webinar or joining your challenge, and you have a 10% conversion rate, you'll need at least 1k people to see your sales page. And in order to get 1k impressions on your page, you may want 10k people to see your ad. So reverse engineer the process based on the targets you want to hit.
And often, in order to hit your sales targets, you'll have to first grow your list. If your audience stays the same with every launch, then you're missing an opportunity. So focus on that during the nurture phase, while you prepare for your launch.
Make More Sales with our Psychology-Based Email Marketing Membership
Psychology-based email marketing.
Complete email campaigns.
Video training.
Group coaching sessions.
Exclusive AutomateHero app.
Subject line of the week
A subject line that has worked well for Melissa is "Why I'm not joining another mastermind this year." Why did people open her email? Because we all like gossip or intel! Melissa didn't actually give the answer in the email, so she received some responses from people who wanted to know. Plus, the subject line is around a controversial topic because everyone seems to be joining masterminds, so why wouldn't she? Check it out!
Useful Episode Resources
About Melissa
Melissa and her agency specialise in helping course creators launch and skyrocket their course revenue with paid traffic and sales funnels. If you want to get in touch with Melissa and find out more about her digital advertising agency, head over to her website or check out her Instagram or TikTok for some great tips.
Related episodes
Small List Big Launch – With Gemma Bonham-Carter.
How to Create 3 Big Sales Spikes During Your Launch with Mara Glazer.
The Most Perfect Way To Launch & Promote Your Business Book With Email Marketing.
FREE list to improve your email marketing
If you want to write better emails, come up with better content, and move your readers to click and buy, here's how. We put together this list of our Top 10 most highly recommended books that will improve all areas of your email marketing (including some underground treasures that we happened upon, which have been game-changing for us). Grab your FREE list here.
Join our FREE Facebook group
If you want to chat about how you can maximise the value of your email list and make more money from every subscriber, we can help! We know your business is different, so come and hang out in our FREE Facebook group, the Email Marketing Show Community for Course Creators and Coaches. We share a lot of training and resources, and you can talk about what you're up to.
Try ResponseSuite for $1
This week's episode is sponsored by ResponseSuite.com, the survey quiz and application form tool that we created specifically for small businesses like you to integrate with your marketing systems to segment your subscribers and make more sales. Try it out for 14 days for just $1.
Join The League Membership
Not sick of us yet? Every day we hang out in our amazing community of Email Marketing Heroes. We share all of our training and campaigns and a whole bunch of other stuff. If you're looking to learn how to use psychology-driven marketing to level up your email campaigns, come and check out The League Membership. It's the number one place to hang out and grow your email marketing. Best news yet? You can apply everything we talk about in this show.
Subscribe and review The Email Marketing Show podcast
Thanks so much for tuning into the podcast! If you enjoyed this episode (all about how to achieve your most successful launch EVER so you can hit your sales targets) and love the show, we'd really appreciate you subscribing and leaving us a review of the show on your favourite podcast player.
Not only does it let us know you're out there listening, but your feedback helps us to keep creating the most useful episodes so more awesome people like you can discover the podcast.
And please do tell us! If you don't spend time on email marketing, what do you really fill your working days with? We'd love to know!