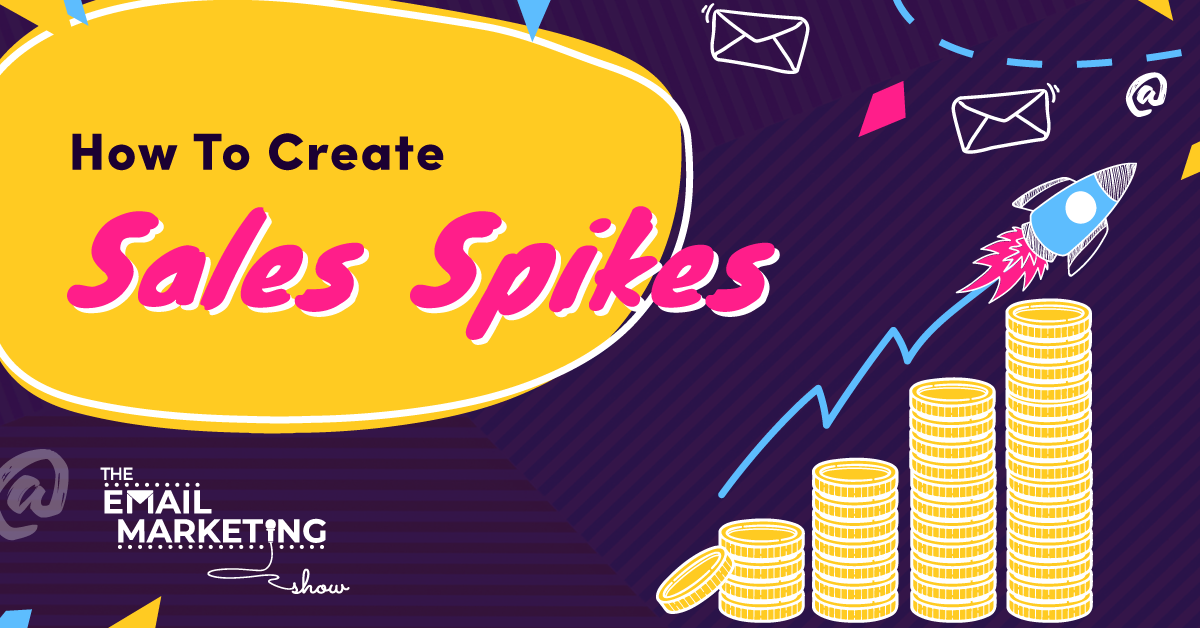 How to Create 3 Big Sales Spikes During Your Launch with Mara Glazer
How do you create a sales spike during your launch? Do you rely on making the majority of your sales on the last day? What if we told you there's a way to generate not ONE spike but at least THREE during the launch of your new product or service? Genius copywriter Mara Glazer tells us how.
If you have a membership, coaching programme, or course, you're going to want to take notes.
Ready?
SOME EPISODE HIGHLIGHTS: 

(0:14) Join our FREE Facebook Group.
(4:05) Does Mara Glazer really hold the record for the most push-ups in her old high school?
(6:31) Why you need 'copy choreography'.
(8:51) Create a priority notification list. 
(9:41) Give them an idea of the price but don't tell them what it is. 
(11:30) Keeping people engaged during the pre-notification period. 
(12:33) Opening the doors. 
(16:37) Creating the last sales spike. 
(18:39) Using the 'micro-membership' concept and the 24-hours special bonus. 
(24:19) Subject line of the week with Mara Glazer.
Why you need 'copy choreography'
One of the things that Mara helps people with is launching programmes, memberships, and courses. And if you've ever launched anything, you'll know that most people tend to rely on a big sales spike or boost on the very last day.
But if you get really smart and use what Mara calls copy choreography, you can create sales spikes throughout your launch – not just at the last minute. All you need to do is to ensure you have the right components in the right places. In other words, you want to think about the sequencing of events that need to happen (and in what order) to create more than one sales spike throughout your campaign.
And that means your first step is to brainstorm the copy choreography before sending out your email campaigns. Makes sense, right?
So here's what you do.
Create a priority notification list
Once you've planned the sequence of events, you need to think about building anticipation with your audience before the cart opens.
One way Mara does this with her clients is by creating a priority notification list that people can sign up for in order to be informed when the doors to the membership or course open for the first time. If you're launching a brand new membership, here you're giving people the chance to join as founding members and be grandfathered in at the best possible price.
The key here is to encourage people to sign up for the pre-notification list by offering an awesome sexy bonus. This is how you create the first sales spike.
Give an idea of the price but don't tell them what it is
Another great tip from Mara here is to give an indication of what's included in the membership but without giving an exact price. Instead, you can give an idea.
For example, you could say that the price of the membership is less than a casual dinner with their best friend. This tells people that the membership is affordable and inexpensive. But the bonus is what will make them go ahead and buy. It's as if you were selling the bonus harder than the product itself by lifting it on a pedestal for the people who sign up for the pre-notification list.
Keeping people engaged during the pre-notification period
The pre-notification list is promoted for about 2-3 weeks. During this time, to keep people engaged and interested, Mara will send out relevant videos that help position the membership through email marketing and social media. Each video sits on its own page with an opt-in underneath to give people the chance to sign up for the pre-notification list if they haven't already.
Opening the doors
Once the doors open, people have three days to join and claim their priority notification bonus. After this time, the bonus disappears, but people can still join. There is, however, a difference in price. If the founding members got to join the membership at the price of $37 per month, for example, once the pre-notification period of three days ends, the bonus disappears and the price goes up to $47.
This price then remains available for one week, and people in the email list receive:
2 emails a day for the first 5 days;
3 emails a day on the sixth day;
4 emails on the last day.
And with only a handful of hours left to sign up, that's where the copy choreography skills really come into play.
The Top 10 Books To 'Power Up' Your Email Marketing
10 book recommendations that will improve all areas of your email marketing (including some underground treasures that we stumbled upon which have been game-changing for us).
Creating the last sales spike
After seven days have passed, the cart stays open for another week. But what's really key here is that it's clear that there are 'consequences' for people who didn't take action within a certain window of time.
For example, if someone doesn't buy within the first three days, they miss out on the bonus and the founding price. If they don't sign up within the first seven days, they miss out on the early-bird price.
Using the 'micro-membership' concept and the 24-hour special bonus
And after the second week, Mara explains, that's typically the end of the promotion. However, in a recent launch that Mara and her team managed for a client, they extended it a little longer.
Out of an email list of 10,000 subscribers, they had signed up 552 members in the first period. They then decided to take a small portion of the membership programme and offer it to everyone who hadn't bought yet. People were offered a snippet of the membership for $7 a month, and through doing this, the client signed another 100 members. This didn't create extra work – the client simply offered a 'micro-membership' for a fraction of the price. And, of course, when you do this, you have an opportunity to upsell to these members.
Another strategy that Mara mentioned for creating sales spikes is introducing a 24-hour special bonus. Doing this creates a reason to send that extra email and gives your audience a compelling, solid argument to act now instead of waiting until the end of the promotion.
Mara's number one tip in all this is to make sure that what you offer is sexy enough. This is crucial for the success of the whole campaign. Because your offer needs to deliver everything it promises and be packaged and positioned in the sexiest of ways. As we always say, you can spend all the money in the world to promote a turd, but you're still showing people a turd! So make sure your offer is great and truly converts.
Make More Sales with our Psychology-Based Email Marketing Membership
Psychology-based email marketing.
Complete email campaigns.
Video training.
Group coaching sessions.
Exclusive AutomateHero app.
Subject line of the week with Mara Glazer
One of Mara's best-performing subject lines is "I saw this on Facebook and thought of you". There are a couple of reasons why this works so well, Mara said.
First of all, it sounds like something one of your friends might send you. But also, it has intrigue and mystery. The person receiving this wants to know what you saw that made you think of them. And of course, it helps if you start the email with something that you did indeed see on Facebook, and then lead into your message from there.
Useful Episode Resources
About Mara
You can get in touch with Mara on her website, where you can find access to some free email templates to send to your list and fill your calendar with sales calls. And of course, you can look at all the ways you can work with Mara and her awesome team.
Related episodes
Best Email Marketing Campaign To Get Your Customers To Buy Again (And Again).
How to Create Urgency For an Evergreen Membership or Course Without Product Launches.
Small List Big Launch – With Gemma Bonham-Carter.
FREE list of the top 10 books to improve your eail marketing
If you want to write better emails, come up with better content, and move your readers to click and buy, here's how. We put together this list of our Top 10 most highly recommended books that will improve all areas of your email marketing (including some underground treasures that we happened upon, which have been game-changing for us). Grab your FREE list here.
Join our FREE Facebook group
If you want to chat about how you can maximise the value of your email list and make more money from every subscriber, we can help! We know your business is different, so come and hang out in our FREE Facebook group, the Email Marketing Show Community for Course Creators and Coaches. We share a lot of training and resources, and you can talk about what you're up to.
Try ResponseSuite for $1
This week's episode is sponsored by ResponseSuite.com, the survey quiz and application form tool that we created specifically for small businesses like you to integrate with your marketing systems to segment your subscribers and make more sales. Try it out for 14 days for just $1.
Join The League Membership
Not sick of us yet? Every day we hang out in our amazing community of Email Marketing Heroes. We share all of our training and campaigns and a whole bunch of other stuff. If you're looking to learn how to use psychology-driven marketing to level up your email campaigns, come and check out The League Membership. It's the number one place to hang out and grow your email marketing. Best news yet? You can apply everything we talk about in this show.
Subscribe and review The Email Marketing Show podcast
Thanks so much for tuning into the podcast! Thanks so much for tuning into the podcast! If you enjoyed this episode (all about how to create not one sales spike but THREE during your launch) and love the show, we'd really appreciate you subscribing and leaving us a review of the show on your favourite podcast player.
Not only does it let us know you're out there listening, but your feedback helps us to keep creating the most useful episodes so more awesome people like you can discover the podcast.
And please do tell us! If you don't spend time on email marketing, what do you really fill your working days with? We'd love to know!