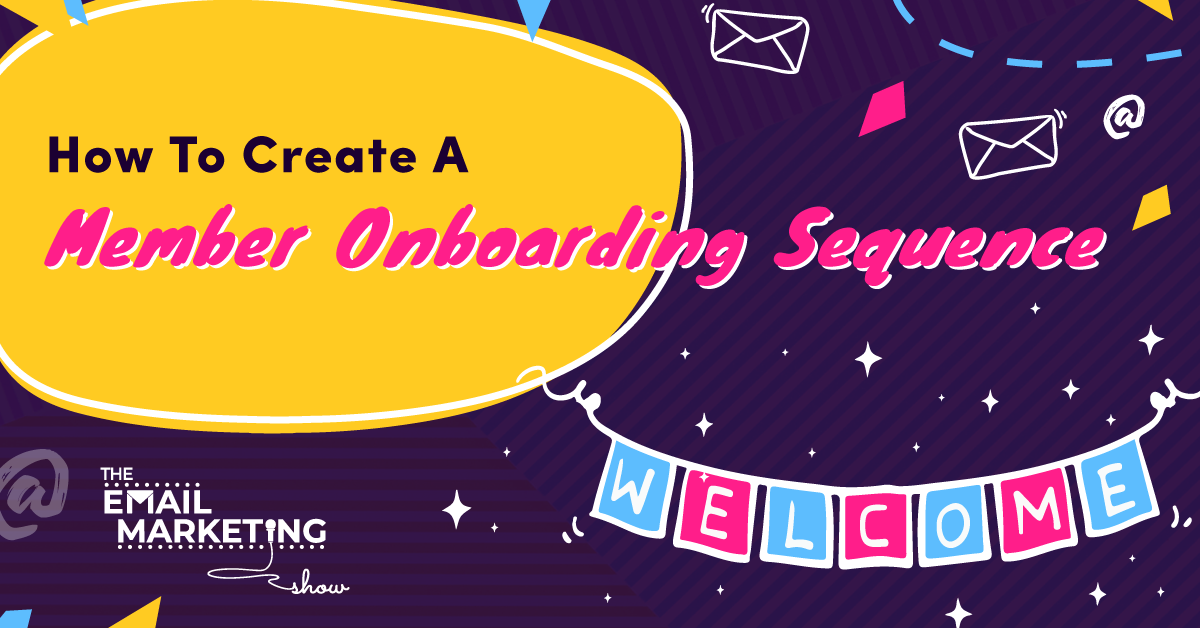 How To Create A Member Onboarding Sequence That Your Members Will Love
Do you run a membership or are thinking of putting one together? How do you welcome new members and make sure they feel reassured they're in the right place and know what to do next? Today we share how you can create an onboarding sequence for memberships that your customers will absolutely LOVE!
Since launching our membership, we've had many different approaches to onboarding. And we can tell you this – simply giving people their login details isn't enough. New members need more hand-holding than that! So let's take you behind the scenes of our onboarding process and show you why it works so well.
Ready?
SOME EPISODE HIGHLIGHTS: 

(0:10) Join our FREE Facebook Group. 
(2:42) What is a member onboarding sequence?
(5:03) Being new to something is terrifying! 
(9:12) Why you shouldn't treat a brand new person like a member just yet.
(11:30) The 3 key steps we use in our onboarding sequence.
(12:59) Make sure each step leads to the next one in the sequence.
(15:23) The email we send in our onboarding sequence.
(19:36) Example of the first email in a member onboarding sequence.
(22:35) Create an onboarding sequence your members will love!
(23:22) Subject line of the week.
What is a member onboarding sequence?
Simply put, when someone joins your membership, you need to onboard them so they don't get lost. You don't want someone leaving because they feel overwhelmed, right? So you've got to take care of them. That's what an onboarding process is.
If someone joins our membership The League, we have over 40 campaigns, 20 video trainings, and lots of unique phrases and terminology. So we understand that someone can easily get overwhelmed. And that's why we have an onboarding sequence to avoid that.
When you become a customer of something new for the first time, it's terrifying! If you don't have a grasp of the thing you're learning you just don't know what you don't know. And you'll have to ask questions. Sometimes you don't even know if you're in the right place. Are all the things you need even in the membership?
People who join your membership know what problem they have and the promise you made them. But they don't necessarily know the solution. So as a membership owner, it's your job to make it simple for your members. You want to make it easier for them to learn what you teach and fit it into their lives.
Email onboarding best practices
Why you shouldn't treat a brand new person like a member just yet
The first thing we'd like you to think about is that there's a difference between someone who joins your membership for the very first time and a member. To us, the job of the onboarding process is to take someone from being this new person who dipped their toe in the waters for the first time to being a fully-fledged member. It's an interesting mindset switch, but it's so important that we even recommend you tag these two categories of people in completely different ways in your system.
For example, when people buy things on the Internet, sometimes they ask for refunds. And we always used to think it was a bit painful to make a sale and then have someone ask for the money back 29 days later. But then we reframed our mindset and started thinking of that money as not being ours at all during those first 30 days. Imagine you're only holding the money for a while. That way, in the rare event they ask for a refund, you don't take it personally because you don't see that money as yours yet.
So a brand new person isn't a 'member' just yet. And when you think of it that way, you can treat those people differently and take even better care of them.
If we gave you a drink in a plastic sippy cup, for example, you wouldn't take as much care of it as you would of Rob's grandmother's china! So think of anyone new as a delicate china cup that needs to be handled with extra care and managed carefully. If you do this, you'll create an awesome onboarding process that doesn't make people feel overwhelmed or puts them off. All you want to do is to have a series of short, easy steps that nudge new people across to become members.
The 3 key steps we use in our onboarding sequence
We have 3 steps to help us turn a brand-new person into a member:
On our Thank You page, we ask people to fill in a survey so we can respond to them differently.
We ask people to watch 3 welcome videos which we call the Start Here videos. These are designed to reinforce the beliefs that made people buy and combat buyer's remorse.
And finally, we encourage people to get started on our Success Track so they can get results quickly.
What's worth pointing out here is that we also have a small email sequence for each step. Why? Because in a dream world, most members would complete these 3 steps within an hour of joining. But that's not true for everyone, so we create small email sequences to remind people to take these steps. We do this to make sure no one ever finds themselves at a dead end. If there was no handover between one step and the next, people would end up lost.
Make sure each step leads to the next one in the sequence
To put things into perspective, about 90% of people who join our membership fill in the survey immediately. About 90% of those people watch the Welcome Videos and about 90% of those start the Success Track. So we have a bunch of people who don't follow the steps at all and get lost along the way. But you always have to factor in the people who, for whatever reason, join your membership now but don't immediately take the next step with you.
That's what the short sequences of emails do. And if people take the steps we recommend straight away, they won't even see those emails – they're only there for people who need them to make sure they don't get lost. When each part of your onboarding sequence hands over to the next piece, you make sure that whenever people drop off or disengage, you get to follow up with them and show them the map for what comes next.
The emails we send in our onboarding sequence
In our onboarding sequence, we have 21 pre-written emails that get sent out over 21 days. Just like our daily emails, they have a story in them, a lesson, and a call to action to signpost them to a specific element of the membership. Every day, we follow the same format in our emails but will tell them about something different they can go and check out inside of our membership.
On top of that, every week on a Wednesday and a Saturday we send out live emails. On Wednesdays, we'll talk about the live elements of the membership, such as a Hotline Call or a campaign workshop, for example. And on Saturdays, we'll send out a roundup email of what happened in the week and what's coming up next. We also celebrate wins from some of our members.
So the 21 pre-written emails go out every day except on a Wednesday and a Saturday when our members receive live emails. To the reader, the whole sequence is very seamless – they won't be able to tell whether we wrote the email that day or whether it was pre-written in advance. But for us, that means producing a very joined-up and taken-care-of sequence with no extra work.
As always, the full details of this sequence are inside The League, where we tell you what the emails are, what we do with them, how we structure them, etc.
And another thing we like to do is to send out a handwritten postcard in the mail to every new member so they feel taken care of and seen – not just like another number on the Internet!
The Top 10 Books To 'Power Up' Your Email Marketing
10 book recommendations that will improve all areas of your email marketing (including some underground treasures that we stumbled upon which have been game-changing for us).
Example of the first email in a member onboarding sequence
So what's inside the very first email of our member onboarding sequence? And why does the content of that email work so well? The key or us to is to keep that email short and not full of instructions that will overwhelm people.
Think about it. If you stop someone on the streets asking for directions and they give you several sets of instructions, you'll probably follow the first step and then forget what they said. What would be more sensible is for someone to give you the first set of instructions and then stop there, find someone, and ask again. That's what we do with our onboarding sequence.
So in the first email, we talk about how excited we are for the person who just joined our membership. We tell them what happens next and give them some benefit-driven bullet points to re-sell them our membership.
For example, we let them know they're getting all our campaigns, our coaching calls, and access to our Facebook group. We also tell them they're going to know exactly what emails to send and when to make more sales in less time and get really good results with their email marketing. We're not telling them what they're going to get – we're giving them the outcomes and transformation. And we also send a GIF of Kennedy, which adds a bit of personality.
But when it comes to instructions, we give them their login details and share the first step we want them to take. Only when they get there, do we give them the next piece of the process.
Create an onboarding sequence your members will love!
If you're not doing this right now, make the change! You'll significantly improve your onboarding experience and make it less overwhelming for your new customers. If you're not already a member of The League, go and check out the onboarding experience we put together to see all the intricacies of it. And of course, when you join, you'll get access to the whole campaign too. Just go grab it!
If you want to apply all this without even thinking about it, it's already baked into the campaigns, frameworks, and systems that we give you inside our membership The League. So go and check it out!
Make More Sales with our Psychology-Based Email Marketing Membership
Psychology-based email marketing.
Complete email campaigns.
Video training.
Group coaching sessions.
Exclusive AutomateHero app.
Subject line of the week
This week's subject line is "This 1 word cost £61,000". There's lots of curiosity in this subject line as people are wondering what the word was and why it could possibly cost so much.
The story was about the fact Rob was listening to one of those shows on the radio where you enter a contest, and if you get picked and receive a phone call, you need to answer using a specific word or phrase to win the money. But the woman in question failed to answer with the right word, which cost her £61,000! So Rob went on to talk about how the words we use are important and can be the difference between whether we make money or don't make money in our businesses. Try it out!
Useful Episode Resources
Related episodes
How To Create A Lead Magnet Email Sequence That Gets Your Subscribers To LOVE You.
Writing The Perfect Welcome Email – Saying Hello With Gavin Bell.
Mistakes You're Making With Your Email Marketing Automation Strategy.
FREE list to improve your email marketing
If you want to write better emails, come up with better content, and move your readers to click and buy, here's how. We put together this list of our Top 10 most highly recommended books that will improve all areas of your email marketing (including some underground treasures that we happened upon, which have been game-changing for us). Grab your FREE list here.
Join our FREE Facebook group
If you want to chat about how you can maximise the value of your email list and make more money from every subscriber, we can help! We know your business is different, so come and hang out in our FREE Facebook group, the Email Marketing Show Community for Course Creators and Coaches. We share a lot of training and resources, and you can talk about what you're up to.
Try ResponseSuite for $1
This week's episode is sponsored by ResponseSuite.com, the survey quiz and application form tool that we created specifically for small businesses like you to integrate with your marketing systems to segment your subscribers and make more sales. Try it out for 14 days for just $1.
Join The League Membership
Not sick of us yet? Every day we hang out in our amazing community of Email Marketing Heroes. We share all of our training and campaigns and a whole bunch of other stuff. If you're looking to learn how to use psychology-driven marketing to level up your email campaigns, come and check out The League Membership. It's the number one place to hang out and grow your email marketing. Best news yet? You can apply everything we talk about in this show.
Subscribe and review The Email Marketing Show podcast
Thanks so much for tuning into the podcast! If you enjoyed this episode (all about creating an awesome onboarding sequence for memberships) and love the show, we'd really appreciate you subscribing and leaving us a review of the show on your favourite podcast player.
Not only does it let us know you're out there listening, but your feedback helps us to keep creating the most useful episodes so more awesome people like you can discover the podcast.
And please do tell us! If you don't spend time on email marketing, what do you really fill your working days with? We'd love to know!