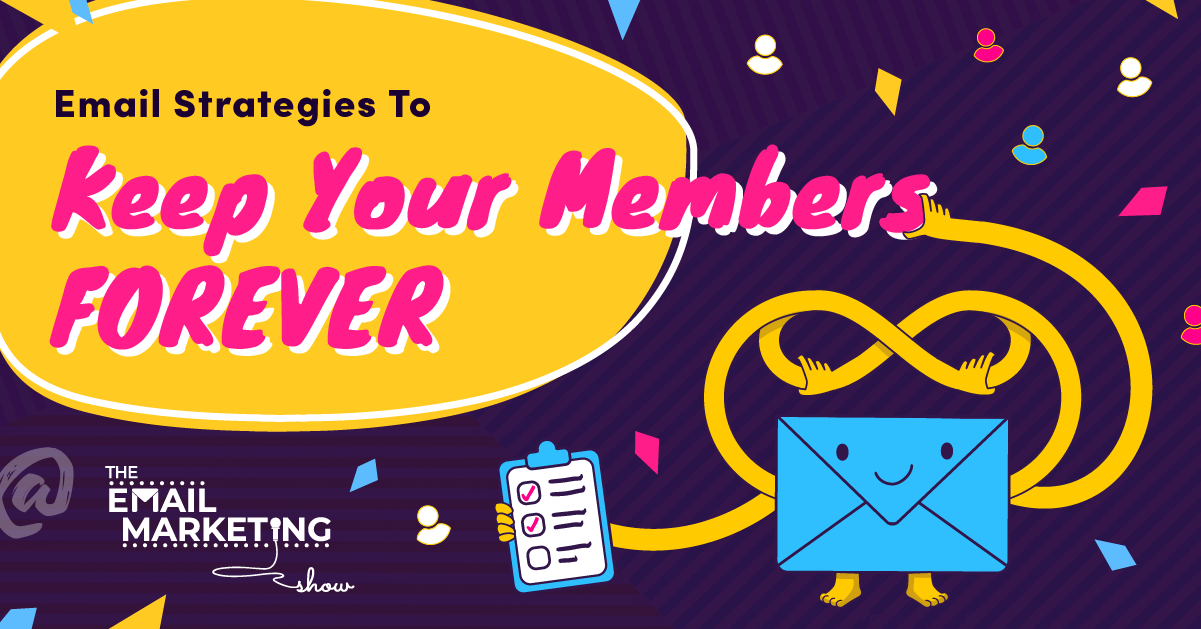 Learn How To Keep Your Members Forever And Ever With THE BEST Email Marketing Membership Retention Strategies On The Planet
Are you a membership site owner who worries about how to keep your members interested and engaged so they never leave? Then you're about to find out exactly what membership retention strategies you can use to retain your members month after month.
We know you've worked really hard to get those people in, and we all feel sad when our members decide to cancel. So let's find out what you can do to stop people from ever wanting to leave and how your email marketing can help with that.
Let's go!
SOME EPISODE HIGHLIGHTS: 

(0:21) Join our FREE Facebook Group.
(4:05) Why retaining members can feel like an uphill battle.
(8:00) Create an awesome onboarding sequence.
(10:51) Set the right expectations with your marketing.
(13:11) Create a level of community within your membership.
(15:18) How does email marketing help with retention in your membership?
(16:38) Don't stop with the marketing and offer an upgrade.
(22:20) How often should you email your members?
(25:02) Should you send your members a round-up newsletter?
(29:24) Subject line of the week.
Why retaining members can feel like an uphill battle
If you have a membership, you'll see the number of active subscribers go up and down all the time, and that's normal. But when you see people starting to leave, naturally, you want to stop that from happening. So you start looking for strategies for retention. When we started our membership, The League, we definitely made the mistake of focusing on retention too soon and too quickly.
Why? Because retention strategies (if employed too soon and before you have a good number of members) are small needle movers. Sure, you can always think of things to do to help your members stay, but the maximum amount of money you'll ever be able to make if you only focus on retention is whatever those existing members are worth to you every month.
But if you focus on gaining more members instead, then there's no ceiling to how much you can make. There's certainly one on retaining members, but there's no ceiling on growth. And that's why you have a membership in the first place, right? Because it's scalable. You'll have more gains by focusing on growth, so you need to work on acquisition first, and then you start looking at membership retention strategies.
Remember – selling is the bigger lever you have to grow your business. But also, the more data you have (and you'll have more data when you acquire more members), the more you'll know what's working and what you need to tweak as a result.
What are some best practices for retaining members?
1. Create an awesome onboarding sequence
If you find that people are joining your membership and immediately asking for a refund or cancelling after seeing the content, then you need to address that first. This isn't a retention problem – it's an onboarding problem. Because as soon as people join, you want them to enjoy themselves and find what they're supposed to find.
So the first thing we recommend you do is to create the best onboarding sequence you can. You want people to have a good experience and not feel overwhelmed by all the content you have. What's the first thing you want them to do? Let them know by creating an email sequence that orientates them, welcomes them, and resells your membership.
If you want to find out more, head over to the episode, How To Create A Member Onboarding Sequence That Your Members Will Love. And, as we said before, remember that when people first join your membership, they're not members yet. They might still leave within the first month or so – by cancelling and asking for a refund. So you still have to get them over the psychological hurdle of going from being a new customer to being a member. And a great onboarding sequence will help with that.
2. Set the right expectations with your marketing
The next thing you need to do is to ensure that you set the right expectations with your marketing. For example, we could sell our membership by promising people they would turn into billionaires by tomorrow. And that might drive up our front-end conversions, but it would really damage our retention because that's not how email marketing works! So that's not what we should promise (and we don't) because if people joined based on that promise, they would cancel and ask for refunds very quickly.
So we do the opposite. We tell people the truth – email marketing isn't a quick fix! But we are also clear on what can happen 3, 6, or 12 months down the line if people join and choose to do the work. So before someone's even made the decision to join (pre-sale) we're using our emails and our sales pages to set the right expectations. We tell them they're going to want to do email marketing for a long time and ask them to hang around.
3. Create a level of community within your membership
We'll caveat this one by saying that creating a community might help with your retention, but if it's not your style, it's not the be-all-end-all. We've all heard the saying that people join your membership for the outcome and then 'stay for the community'. But that's a very broad and sweeping statement. Maybe community isn't your strongest point or what your membership is all about! Maybe you run a results-driven membership instead, and that's okay.
So if community is your bag, by all means, create one. But also be mindful of the fact that people want to get results. And if they don't, they'll probably leave, despite how good the community is. Let's also remember that the world is changing – human beings have changed. We are more impatient and have lower attention spans than ever. We want to get results right now.
People won't keep paying you without getting any results just because they don't want to lose their friends! With social media, everyone's connected in multiple platforms and ways, so no one really loses a community when they leave a membership. So if you want, create one. But it's not all going to hang on that.
How does email marketing help retention in your membership?
One of the things we love about email is that it gives you a consistent way to show people the value of your membership even if they haven't logged in for a while. Email marketing will help you resell your membership. Because it allows you to keep in touch with your members regularly in a bunch of different ways.
It could be to let them know that something new has landed and invite them to go and take a look. Or it could be a weekly roundup (something we do on a Saturday and that we'll dive into a bit more later). With email, you can direct people to specific content and things happening inside the membership so they get engaged with it and think that the membership is and continues to be valuable. It's a weird trick that the mind does – even if you don't look at the content or use it regularly, you know you have it there for when you need it.
Don't stop with the marketing!
Also, remember that one of the reasons that got people excited to join your membership in the first place is the marketing you did – the promise of what's inside. So don't turn it off. Even if some people aren't consuming the content and doing the work, don't stop with the marketing.
And one of the ways we do that is by talking about member wins. We share our members' stories to keep our existing members motivated if they haven't got quite as far as others yet. And if some people haven't logged in or haven't had the chance to do the work yet, it shows them what's possible. It might even get them excited and motivated to get back on the wagon.
So keep reminding people that your membership works. And even if someone decides to leave because they're not making the time to take action, at least you know they're not leaving because your solution doesn't work. That way you won't create any bad press for yourself. Show your members' wins and remind others that when they take action, your solution works. In turn, that motivates them to go and get results, which is what you (and they) want.
Offer an upgrade
Another thing we like to do is to offer some kind of upgrade from the membership. When people buy from you again (because they've just upgraded to something else or have bought an additional thing), they feel renewed excitement and passion. For example, can you offer an annual plan to your pay-monthly members? Or can you invite people to upgrade to a different level of membership, or to join a mastermind or some sort of accelerator level?
These are good membership retention strategies because they allow you to recharge and reinvigorate your members' passion for what you teach. And that's important because people don't necessarily choose to keep paying you every month – it's more that you take the money from them. And that's different because it's something passive – something that happens because they didn't make the active decision to cancel.
But when they're actively buying from you again, they feel excitement. Think about it – you don't feel excited when you see your monthly bill and all the subscriptions that come out of your account! But if you get an opportunity to buy something new or upgrade to something better, then you'll feel good about it again.
And this also helps people further cement their identity as members because they're investing more in order to be in your upgraded offer. They're taking your membership to the next level, and they know it.
The Top 10 Books To 'Power Up' Your Email Marketing
10 book recommendations that will improve all areas of your email marketing (including some underground treasures that we stumbled upon which have been game-changing for us).
How often should you email your members?
We see both ends of the spectrum here – people who email all the time and people who never email because they're too worried about their members leaving. When it comes to our business, we've definitely done too much emailing but never too little. And now we've settled on two emails a week once people have gone through our onboarding sequence.
Our members get an email on the day of a live session most Wednesdays and then our round-up email every Saturday. That's where we tell everyone what's new and what's coming up in a very strict, newsletter-type format. Both those emails are very formulaic and based on a template that gets sent out automatically every week. We do that to invite people to pay attention.
And if there's anything else going on (like a quarterly members award event, for example), we'll email them separately and send that email in addition to our regular ones.
Should you send your members a round-up newsletter?
The roundup email is one of the membership retention strategies we use, and we suggest that, if you send one out, you think of it that way. We review the format of ours every 6-8 weeks to try and understand how we can use it more strategically. Because the newsletter has to serve you as a business – not just serve the members.
So what can you include in your round-up email?
Your latest piece of content or training. Give people a reason to log in and go and see what's new.
Celebrate wins and talk about what people achieve by being members. Show growth because people like to be part of something that's growing (who wants to be in something that's dwindling away?) When people are committed, they feel good and enthusiastic.
Let your members know that they can refer your membership to others by thanking those who have done so already.
Obviously, always give people the option to opt out (and only from this email, rather than all your communication) because not everyone wants to receive the round-up email every week.
Check out our email marketing retention strategies inside The League
So there are two different ways you can use email marketing to increase retention in your membership:
Pre-sales, with the marketing you do to get the right people in. Remember that it's often better to have a slightly lower conversion rate upfront than to have lots of people joining and then leaving really quickly.
And on the flip side of that, once people are members, use email to make them stick around. How do you make them identify as members to the point that it'd feel like their lives would be a bit empty if they were to leave your membership?
If you want to find out more about this, have a look at the campaigns inside our membership The League. You can check out our onboarding automation, look at the membership retention strategies we have in there, and grab the campaigns for them. It's as easy as that!
Make More Sales with our Psychology-Based Email Marketing Membership
Psychology-based email marketing.
Complete email campaigns.
Video training.
Group coaching sessions.
Exclusive AutomateHero app.
Subject line of the week
This week's subject line is something we've mentioned before because it's a classic, and it's "Kennedy's vacuum cleaner is a dick".
Continuing our trend of having subject lines that break the mold, the story was that Kennedy got himself a new cleaning robot. But it looks like the thing has a bit of a personality of its own (or a personality disorder, if you ask Kennedy). So that was the unusual story that prompted the subject line. Check it out!
Useful Episode Resources
Related episodes
Everything You Need To Know About Our Membership The League (THE Behind The Scenes!)
Why Retention is Important for your Membership, with Liz Beadon.
What Emails Should You Send Your Paying Members? with Mike and Callie from Membership Geeks.
FREE list to improve your email marketing
If you want to write better emails, come up with better content, and move your readers to click and buy, here's how. We put together this list of our Top 10 most highly recommended books that will improve all areas of your email marketing (including some underground treasures that we happened upon, which have been game-changing for us). Grab your FREE list here.
Join our FREE Facebook group
If you want to chat about how you can maximise the value of your email list and make more money from every subscriber, we can help! We know your business is different, so come and hang out in our FREE Facebook group, the Email Marketing Show Community for Course Creators and Coaches. We share a lot of training and resources, and you can talk about what you're up to.
Try ResponseSuite for $1
This week's episode is sponsored by ResponseSuite.com, the survey quiz and application form tool that we created specifically for small businesses like you to integrate with your marketing systems to segment your subscribers and make more sales. Try it out for 14 days for just $1.
Join The League Membership
Not sick of us yet? Every day we hang out in our amazing community of Email Marketing Heroes. We share all of our training and campaigns and a whole bunch of other stuff. If you're looking to learn how to use psychology-driven marketing to level up your email campaigns, come and check out The League Membership. It's the number one place to hang out and grow your email marketing. Best news yet? You can apply everything we talk about in this show.
Subscribe and review The Email Marketing Show podcast
Thanks so much for tuning into the podcast! If you enjoyed this episode (all about membership retention strategies with email) and love the show, we'd really appreciate you subscribing and leaving us a review of the show on your favourite podcast player.
Not only does it let us know you're out there listening, but your feedback helps us to keep creating the most useful episodes so more awesome people like you can discover the podcast.
And please do tell us! If you don't spend time on email marketing, what do you really fill your working days with? We'd love to know!