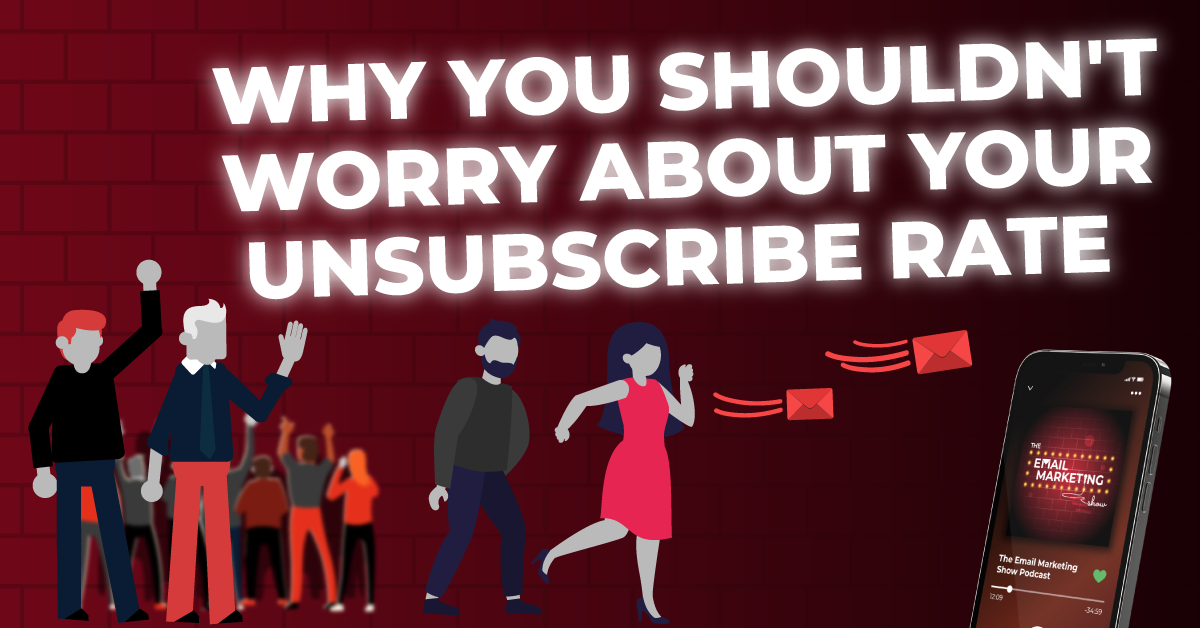 Why You Shouldn't Worry About Your Unsubscribe Rate
Do you worry about your unsubscribe rate? Do you obsessively log into your email marketing software to check it and then panic over it?
If you do, you need to stop that.
Your unsubscribe rate is actually a good thing! Want to know why?
Let's find out!

SOME EPISODE HIGHLIGHTS: 

(2:48) Fancy a 14-day FREE trial with Keap?
(4:10) Why you want to build a list of people who want to buy from you.
(6:50) Your email marketing should be on your terms.
(9:06) When people unsubscribe from your list, they improve your email deliverability.
(10:00) Why you should aim to make a profit from your email list as a whole (and not look at individual subscribers).
(12:30) Email marketing is about building relationships with people.
(13:16) Why you want to keep your email list lean.
(14:46) Look at people unsubscribing from your list as the ultimate way of niching down.
(16:54) Why you want to create an environment of zero competition.
(18:20) Subject line of the week.
Build a list of people who want to buy from you
We know getting notifications that say people have unsubscribed from your email list is scary. But it shouldn't be. Subscribers are not Pokémon – you don't have to collect them all!
The truth is when people unsubscribe from your list they're doing you a favour. Because list building isn't about having the biggest list in the world. It's about having a list of people who want to hear from you and buy from you.
If they're not going to buy from you (ever), they might as well not be on your list! You don't need more friends. And you don't need more people on your list that drag you down.
In fact, that unsubscribe link at the end of your emails is useful. It's like a self-cleaning feature. This is your email list cleaning itself and telling you who's not interested. Your subscribers are telling you that your business isn't for them. And that's a good thing!
Your email marketing should be on your terms
Because your emails are landing in people's email inboxes, it's easy to think you are interfering with their day – that you're being intrusive. But let's turn this around for a minute. Imagine your email marketing is your house, and you've invited people in for a cuppa.
Effectively, you've put a thing on the internet (a lead magnet) that told people you send an email out as often as you do about the things you want to sell. If people want to receive that email, they're welcome to come on in and make themselves at home. You'll even put the kettle on, won't you?
And if at any point they don't like what they see in your house, they can leave. And that's okay. In case they get so upset they email you to say you're spamming them, you can always unsubscribe them.
So don't get attached to the idea you have to make their inbox a better place. Because sure, your job is to do good email marketing. And that should make someone's inbox better for them, but only if they want to be there and they're interested in what your emails are all about.
But remember – this is your house. You invited them. And if they don't like it, they can leave at any point or you can unsubscribe them.
So write your emails for you. Send the emails you'd like to receive and then build an audience of people who want those emails. This allows you to focus on serving the needs of the people who want what you have to offer.
The Top 10 Books To 'Power Up' Your Email Marketing
10 book recommendations that will improve all areas of your email marketing (including some underground treasures that we stumbled upon which have been game-changing for us).
When people unsubscribe from your list, they improve your email deliverability
Did you know that email unsubscribes improve your deliverability? That's right. Because instead of doing things that tell Google and the other search engines that your emails aren't very good, the people who don't want your emails just leave.
It's when they stay and start doing things like not opening your emails, not clicking your links, or not engaging, for example, that you need to worry. Because that's when your open rates and your click-through rates go down.
It's a bit like having a sad person in the corner of the room at your party – they're bringing the atmosphere down for everyone. But if they leave, the mood of the whole party lifts again.
And it's the same for your email deliverability. The minute the people who weren't engaging with your emails leave, your deliverability rate starts to increase. And that's a big win! 
Aim to make a profit from your email list as a whole
Another reason why high unsubscribe rates shouldn't worry you is that we shouldn't look at subscribers on our list individually. So if you're running ads, for example, you can calculate your ad spend and the number of subscribers on your list and work out how much it's costing you to acquire one subscriber. And if that person unsubscribes, you now think you've lost that amount. Then you start focusing on the fact that if you emailed less or differently, then people wouldn't have unsubscribed, and you wouldn't have lost money. 
But that's the wrong way to look at it! 
Instead, you want to think about how email marketing works as a bigger picture. So if you're spending $1,000 in ads to get 200 subscribers, for example, you now want to make that $1,000 back with all your subscribers collectively – not looking at them one by one. 
Don't aim to make every single subscriber on your list profitable. You make a profit from your list as a whole.  
For example, we make $12 per subscriber per month. So if we had 200 subscribers, with our business and our setup, we could make $2,400 per month. If you spend $1,000 to acquire 200 subscribers, your job is to make $1,000 (and more) from those 200 subscribers as a whole. Because that's a much better way to see where your profits or losses come from. 
Email marketing is about building relationships with people 
Let's face it – people who unsubscribe from your list are not interested in what you have to say or sell right now. There's no point in having a huge email list that you're too scared of emailing in case they unsubscribe.
The reason why you have email subscribers is so that you can communicate with them and build relationships to a point where they invest in you or buy something from you. So please get over the idea that emailing people is something to be afraid of! Because when you email people you build relationships. And that means that when they're ready to buy from you, they will.  
Keep your email list lean
Another advantage of people unsubscribing is that it keeps your email list lean. And that allows you to reduce your email hosting costs. If you're on a package with your email platform where you get 5,000 subscribers for a certain price, as soon as you go over that number, you're going to have to upgrade.
Because email marketing is such a high return-on-investment activity, the cost of upgrading is not massively prohibitive, but you still want to avoid overspending. And if some people unsubscribe and that allows you to stay under that threshold, you get to keep your costs low. 
Look at unsubscribing as the ultimate niching down
People unsubscribing from your email list is the ultimate niching down. A lot of people think that if they send an email and 98% of people don't open it, it means their open rates are bad. Even if you could trust open rates as being true (which you can't and shouldn't), a 30% open rate, for example, is not bad at all! 
But what you need to realise (instead of focusing on open rates) is that not everybody's going to resonate with your style and message, which means that when people unsubscribe you get to niche right down. Every time you send an email, some people will leave. But as they get themselves off the list, you're left with the people who resonate with your style, with the kind of words you use, and with your message. The people who stay are interested in learning more about the thing you talk about, and they're specifically interested in learning about all that from you.
Just like us, you're not for everybody. And by getting rid of the people who are not interested in you or your thing, you get to niche down to the ones who are. And those are the most profitable people to have in your world.
The environment of zero competition
Once you niche down to the people who are interested in what you sell, you get to create what we call an environment of zero competition. You're no longer competing with other people doing what you do, because your people have decided that it's you – your style, your frameworks, your personality, your way – they want to learn from. You've created an environment of zero competition where no one can come and sweep them away from you.
So if you want more of this – if you want to see more consistent sales from your email marketing, let us hand you our library of email automations and email marketing campaigns, training, and monthly group coaching inside of our amazing community – The League of Email Marketing Heroes. That's our monthly membership, especially designed to help you sell more of your courses, bring in new members to your programmes, and win more coaching clients with psychology-based email marketing.
Make More Sales with our Psychology-Based Email Marketing Membership
Psychology-based email marketing.
Complete email campaigns.
Video training.
Group coaching sessions.
Exclusive AutomateHero app.
Subject line of the week
This week's subject line of the week is "Have you got a napkin?" and it worked because it's a question. When someone asks you a question, your brain subconsciously switches into gear and either wants to answer or wants to know more – what is it all about and why do they want to know, for example?
The premise of the email was around the fact we'd heard someone say that your business model should be so simple you could draw it on a napkin. If not, it means your business is too complicated. But if you get into the weeds of your email campaigns and funnels, it can all get quite complex. And our email talked about why it's important to have a good system for building your email marketing automations so you don't lose track of what they're doing. And we had just the thing to help people do that. Brilliant, right?
Useful Episode Resources
Related episodes
Why You Need to Avoid These Email Marketing Mistakes.
How to Email Your Abandoned Email List. 
Increase Your Email Open-Rates: 13 Email Subject Line Tips to Stand Out in An Overcrowded Inbox. 
FREE list of the top 10 books to improve your email marketing
If you want to write better emails, come up with better content, and move your readers to click and buy, here's how. We put together this list of our Top 10 most highly recommended books that will improve all areas of your email marketing (including some underground treasures that we happened upon, which have been game-changing for us). Grab your FREE list here. 
Join our FREE Facebook group
If you want to chat about how you can maximise the value of your email list and make more money from every subscriber, we can help! We know your business is different, so come and hang out in our FREE Facebook group, the Email Marketing Show Community for Course Creators and Coaches. We share a lot of training and resources, and you can talk about what you're up to.
Try ResponseSuite for $1
This week's episode is sponsored by ResponseSuite.com, the survey quiz and application form tool that we created specifically for small businesses like you to integrate with your marketing systems to segment your subscribers and make more sales. Try it out for 14 days for just $1.
Join The League Membership
Not sick of us yet? Every day we hang out in our amazing community of Email Marketing Heroes. We share all of our training and campaigns and a whole bunch of other stuff. If you're looking to learn how to use psychology-driven marketing to level up your email campaigns, come and check out The League Membership. It's the number one place to hang out and grow your email marketing. Best news yet? You can apply everything we talk about in this show.
Subscribe and review The Email Marketing Show podcast
Thanks so much for tuning into the podcast! If you enjoyed this episode (all about why you shouldn't worry about your unsubscribe rate) and love the show, we'd really appreciate you subscribing and leaving us a review of the show on your favourite podcast player.
Not only does it let us know you're out there listening, but your feedback helps us to keep creating the most useful episodes so more awesome people like you can discover the podcast. 
And please do tell us! If you don't spend time on email marketing, what do you really fill your working days with? We'd love to know!