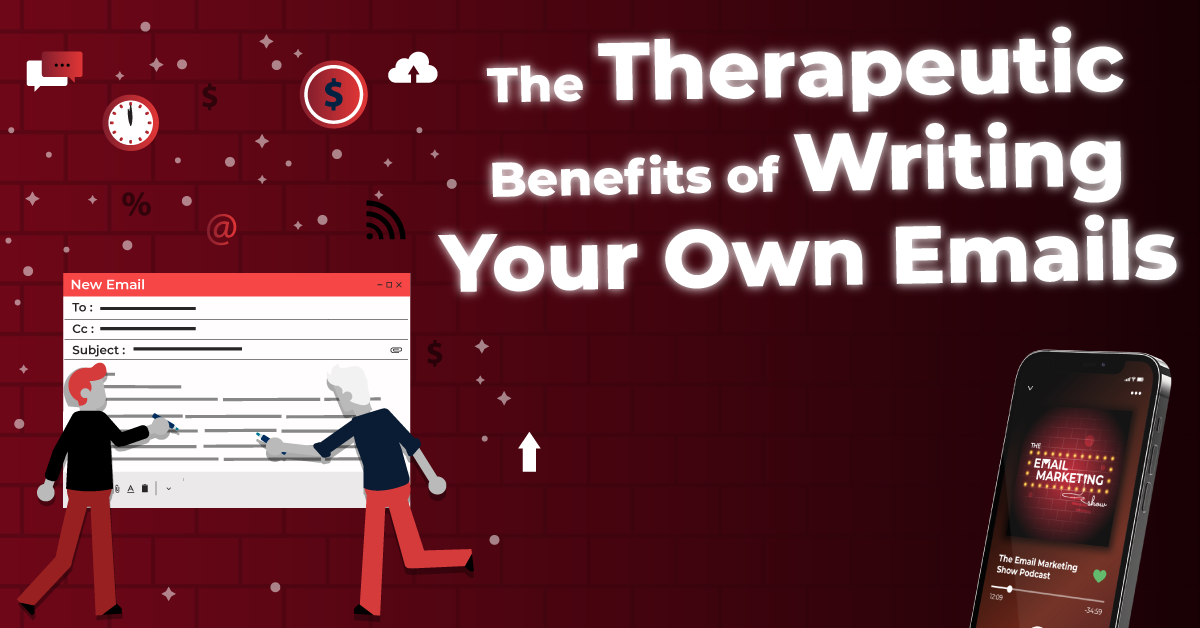 The Therapeutic Benefits of Writing Your Own Emails
This week we're talking about the therapeutic benefits of writing your own emails. Is writing therapeutic? Absolutely! And writing emails can be just as much a therapy for you as it is a sales-making activity. So let's break down all these cool therapeutic benefits of writing your own emails.
Ready?

SOME EPISODE HIGHLIGHTS: 

(0:16) Want to get more sales from your email marketing? Grab our Click Tricks.
(4:38) Fancy a 14-day FREE trial with Keap? (We give you TWO of our campaigns for FREE with it!)
(5:52) Write the emails you enjoy writing.
(8:53) Allow yourself to savour the moment.
(11:33) Train your brain to become more mindful.
(13:28) Create the habit of writing every day.
(15:46) Stop worrying about the technology - focus on the psychology!
(17:24) The commercial benefits of writing your emails.
(18:25 ) Be you!
(21:05) Subject line of the week.
Want to get more sales from your email marketing?
We put a little something together for you. It's really cool and it's FREE (yes, it's cool and free – we're nice like that). If you want to make more sales from your email marketing, you need more clicks on the things that you're selling!
That's why we're giving you 12 creative ways to help you get more clicks in every email you send. It's a FREE download, and it's called Click Tricks. You can grab it here.
Writing emails can be fun!
Let's talk about why email writing (and generally the act of writing) can be therapeutic for you. Because writing emails is not just a sales mechanism! The reason why loads of people put off doing email marketing is that it sounds hard. It comes across as difficult, complicated, laborious, and maybe even boring. The key word here is that it sounds like it might be all these things. And we all want to do things that are easy, don't we?
But here's what we're saying. You can turn something you're currently putting off and think you might not like into something you enjoy!
That'd be cool, right? So how do we do that?
Write the emails you enjoy writing
The first thing you need to do is to write emails you enjoy writing – emails you would actually want to read. And that sounds a bit crazy because a lot of the emails in your inbox might look boring, formulaic, or braggy. But you don't want to write emails like that. And the great news is that you don't have to!
You can write better emails that will also help you stand out. You do that by writing the emails you'd like to read – the ones you enjoy. Because that means you'll enjoy the process and the therapy of writing.
Kennedy, for example, started writing daily emails because he's dyslexic. He looked at the process as a way of working a muscle. If you exercise that muscle every day, over time you're going to get better at using it. So he told everyone on his website that he's dyslexic, and if you join his daily emails, there will be typos. It might be all over the place when it comes to spelling, but he promised the emails would be good and valuable.
So if you feel you're not great right now, the expectation of turning up 3-7 times a week with an email to your list will give you the motivation to show up and improve that skill. It's a bit like having a personal trainer – it's what will make you show up at the gym and do the work so you can improve your skills.
Allow yourself to savour the moment
Another benefit of writing emails is that it allows you to be present. The idea of mindfulness has become increasingly popular over the last few years. It's about being more mindful of what's going on in the present – living in the present moment. And one of the activities you can do to become more mindful is writing, which is why journaling is so popular. It's all about sitting down and writing privately to yourself about how you feel, what you're grateful for, what you've achieved or want to achieve, your goals, etc.
Granted, you might not want to share your private thoughts in the emails to your list – although we're all about being open, honest, and real with your subscribers. We always encourage you to show them what's going on in your life and start your emails with a story. And one of the things that this enables you to do is to become more mindful of what's going on in the world around you – to savour the moment and enjoy each thing that happens to you.
Going for a walk in the woods and allowing yourself to become more aware of what's going on around you is a satisfying thing to do. When you focus on what's going on around you (the sound and sensation of your feet on the ground or the feeling of the breeze through the trees, for example), your brain can't worry about the big stuff that's going on in your life.
The Top 10 Books To 'Power Up' Your Email Marketing
10 book recommendations that will improve all areas of your email marketing (including some underground treasures that we stumbled upon which have been game-changing for us).
Train your brain to become more mindful
Rob, for example, likes to either write his emails using Google Drive or use the full-screen, distraction-free mode on his Mac (using the Byword app), so he can write without seeing anything else – there are no other tabs open, and all he has in front of him is a screen. So he'll sit down and allow himself to get lost in the moment of writing the emails. It's almost as if he was writing to himself.
And when you write the emails you want to write and read yourself, it makes you more confident in what you send. You worry less about the quality of your emails, and this forces you to become more mindful of what's going on in your everyday life.
Even though there's nothing too exciting going on in our average day, we probably each come up with 5-10 things we could turn into an email. And that only happens because we've trained our brains to become more mindful of the things that are happening and to live more in the moment. And that also makes you more relaxed and less stressed.
Create the habit of writing every day
Another benefit of writing your own emails is that it allows you to become more consistent. It creates the habit of writing every day. And when you commit to something, it trains your brain to do it. You'll make it happen. And that can only mean positive things about the way you feel and think about yourself. In fact, it allows you to achieve more in your life, in your business, in your relationships – in everything you're trying to do. And it's a great way of improving your own consistency through forging habits.
One of the things we recommend you do if you decide to send emails more regularly is to build a daily email writing habit into your life so you can end up with more emails than you'll ever send. Just imagine you're going to send an email every day and write them daily, even if you've only committed to sending 3-5 emails a week.  
That's good for two reasons:
It means it means that if you've committed to sending 3 emails a week but you write 7, you end up with 4 emails as a backup that you can fall back on if anything goes wrong. You could tell your VA or anyone in your business to go and retrieve these emails and send them for you, in case you can't do it yourself, for some reason.
The other reason is that if you've written 7 emails but only send out 3 a week, for example, you could choose your 3 favourite ones and only send out those.
Either way, you'll always be ahead.
Stop worrying about the technology – focus on the psychology! 
And if you're worried about the technology of email marketing, then don't be! There are ways around that. You could write your emails in a Google Doc, for example, (like Kennedy does), and then have someone else in your business (in our case, Rob) send them for you.
Remember that every time you log into your email platform you're adding more cognitive load and mental calories to the activity of sending your emails. You'll get carried away and distracted by the technology, rather than focusing on the psychology of it all, as you should. So while it's important you're the person creating that content, it doesn't mean you have to be the one uploading it onto your email marketing platform and physically sending those emails.
So write every day. Because that allows you to accrue 'accidental savings', much like one of those banking apps that round up your transaction to the nearest pound so you can add the rest to your savings account. Without even knowing or noticing, you accrue savings. And it's the same if you get into this habit of writing daily, even if you then decide not to send out all those emails. 
The commercial benefits of writing your emails
There are also commercial benefits to writing your emails. You'll get to improve your copywriting skills (not just your writing skills). And that's about your ability to write emails that get people to feel things or take action. By doing this more often, you're going to become a better writer of copy that persuades and sells and you'll build your creativity muscle. 
Plus, you're going to improve your marketing savviness and find better hooks for your emails. When we have coaching calls with our members inside The League, we find marketing hooks for their emails easily and quickly because by doing this a lot, we've built this muscle and this savviness. 
Be you!
All of this allows you to write emails from a much more 'selfish' perspective. Not everyone is going to love your emails. Some people are going to unsubscribe because they don't want to hear about the stories you have to share. And that's okay. Because the majority of people in your audience do want to hear them. Otherwise, they wouldn't be there.
So there's no point in tailoring your entire email marketing to be dry, dull, and boring just to suit the small number of people who only want to hear from you when you have a special offer. If you go for the approach of writing emails for yourself, you get to be yourself a lot more naturally.
Imagine your email list is your house. You have your own decoration and wallpaper – your own things. And if someone's invited into your house, they can't complain about any of it. If they didn't like it, they could have said no at the door. That's what the unsubscribe button at the end of each email is for. It allows you to put up a little barrier. Because when you first get started with email marketing you worry about people complaining or unsubscribing and not liking what you share. Or responding back with mean things.
But remember that you're doing this for you, not for them. Email marketing isn't like social media. You don't need to create content to please an algorithm that's based on the deep psychology of what the platform thinks people want to consume at that moment in time. With email marketing, it's not about creating content you don't want to create just so you can please the algorithm. You can write the emails that you want to read. And that will help you build the audience who will want to read your emails.
Make More Sales with our Psychology-Based Email Marketing Membership
Psychology-based email marketing.
Complete email campaigns.
Video training.
Group coaching sessions.
Exclusive AutomateHero app.
Subject line of the week
This week's subject line is "We got RUMBLED." This email was about the fact we were planning the launch of our mastermind "Level up", which was going to be made available to 15 people inside of The League. The idea was to have a big launch and some clever marketing around it, ready to go live in April.
But in the middle of January, somebody in one of our coaching calls asked us if we'd consider doing an accelerator mastermind. So we had to tell them there and then and sold out that mastermind in one and a half weeks. In the end, there was no marketing – we just announced it, and that was that. Hence the subject line, "We got RUMBLED."
Useful Episode Resources
Related episodes
Creative Ways to Batch Your Emails.
Writing email every day vs batch writing in one go.
Writing Subject Lines Without Using Formulas. 
FREE list of the top 10 books to improve your email marketing
If you want to write better emails, come up with better content, and move your readers to click and buy, here's how. We put together this list of our Top 10 most highly recommended books that will improve all areas of your email marketing (including some underground treasures that we happened upon, which have been game-changing for us). Grab your FREE list here. 
Join our FREE Facebook group
If you want to chat about how you can maximise the value of your email list and make more money from every subscriber, we can help! We know your business is different, so come and hang out in our FREE Facebook group, the Email Marketing Show Community for Course Creators and Coaches. We share a lot of training and resources, and you can talk about what you're up to.
Try ResponseSuite for $1
This week's episode is sponsored by ResponseSuite.com, the survey quiz and application form tool that we created specifically for small businesses like you to integrate with your marketing systems to segment your subscribers and make more sales. Try it out for 14 days for just $1.
Join The League Membership
Not sick of us yet? Every day we hang out in our amazing community of Email Marketing Heroes. We share all of our training and campaigns and a whole bunch of other stuff. If you're looking to learn how to use psychology-driven marketing to level up your email campaigns, come and check out The League Membership. It's the number one place to hang out and grow your email marketing. Best news yet? You can apply everything we talk about in this show.
Subscribe and review The Email Marketing Show podcast
Thanks so much for tuning into the podcast! If you enjoyed this episode (all about the therapeutic benefits of writing your own emails) and love the show, we'd really appreciate you subscribing and leaving us a review of the show on your favourite podcast player.
Not only does it let us know you're out there listening, but your feedback helps us to keep creating the most useful episodes so more awesome people like you can discover the podcast. 
And please do tell us! If you don't spend time on email marketing, what do you really fill your working days with? We'd love to know!