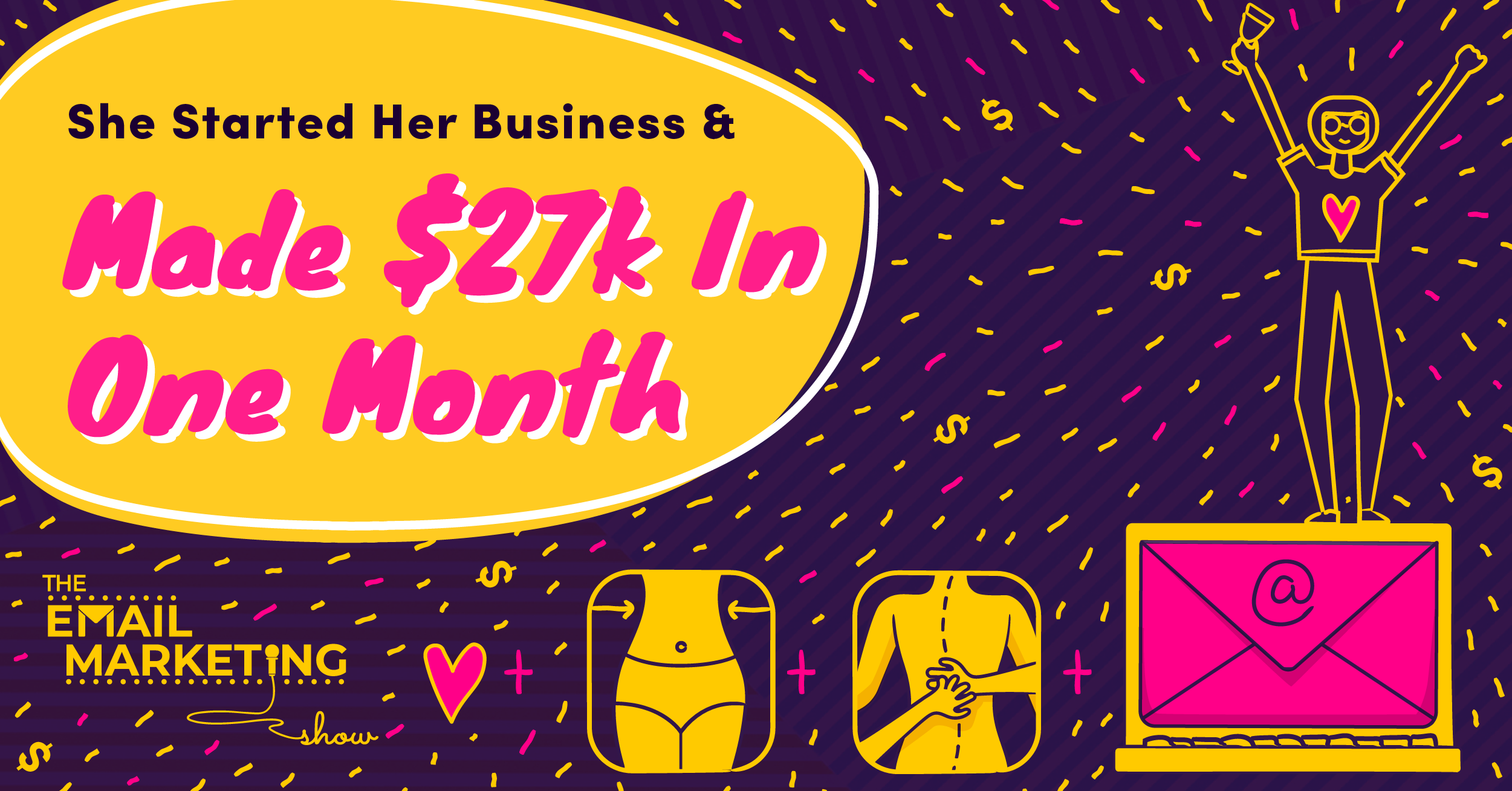 How Our Client Jeri Anderson Made $27k In Month One Launching A Brand New Business & Starting With Zero Contacts On Her List
Want to hear the story of how our client Jeri Anderson from West Texas Weight Loss launched a brand new business and used email marketing to make $27,000 in month ONE while being on vacation for a third of that time?
We bet you do.
Let's get into it, then.
SOME EPISODE HIGHLIGHTS: 

(0:13) Want a FREE resource to get more clicks on your emails? Check out Click Tricks.
(3:46) Who is Jeri Anderson and what does she do?
(7:24) When did Jeri start to use email marketing in her business?
(12:59) What were some of the barriers Jeri faced when she started email marketing?
(19:41) Starting with ZERO contacts on their email list!
(20:51) What was the first thing that Jeri did when she started email marketing?
(24:16) Driving people to discovery calls. 
(29:18) How Jeri finds out the level of motivation from their prospective clients.
(31:59) Is Jeri running loads of sales campaigns?
(35:31) Subject line of the week.
Who is Jeri Anderson and what does she do?
Jeri is a long-time customer and friend of ours. Based in Texas, together with her business partner Darci, she offers a virtual 4-month weight loss programme that uses nutraceuticals and an eating plan. It's a fantastic product that enables people to lose 10-15% of their body weight in the first 60 days and gives them all the tools to keep the weight off and maintain what they've achieved.
Jeri and Darci's clients use an online portal where they receive daily emails. The content is used to educate people and move them through the programme but also teach them about health and nutrition, so they have all the information they need once the programme is over. Jeri and Darci also run one-on-one coaching calls once a week for the first two months of the programme and then every two weeks after that, so it's a fairly high-touch and effective programme.
When did Jeri start using email marketing in her business?
Jeri had followed us for a number of years before she started using email marketing. Before launching their weight loss business, Jeri and Darci had been running a very successful and established chiropractor clinic where they treated patients for chronic pain. They noticed their clients' pain was often perpetuated by an overloaded frame, so they started looking for ways to help their clients with weight loss too.
After offering the service through their clinic for 5 years, they started being approached by more and more people who wanted help with weight loss but didn't need chiropractic services. That's when they made the decision to launch a brand new business and start offering weight loss separately from the chiropractic practice. They dropped their licenses to be able to operate as coaches and made a clean separation between the two businesses. And that's when email marketing came into play.
That was also the time when Jeri was diagnosed with cancer, and as a result of her treatment, she decided to step back from client-facing work and focus on the backend, operational tasks within the practice. Introducing email marketing at that point felt like a natural transition, especially as the weight loss business (being virtual and not in person) needed a new method for driving traffic to it. The chiropractor practice had been established for 30 years, so there wasn't a huge need for marketing. But the weight loss business was brand new and started from zero – Jeri and Darci had no contacts on their email list whatsoever.
What were some of the barriers Jeri faced when she started email marketing?
Jeri admits there were hundreds of barriers initially. The first obstacle was to find a CRM. In their chiropractic practice, Jeri and Darci had been using specialised management software, so Jeri struggled to pick a suitable CRM before she eventually settled on Keap. She then had to learn how to write emails correctly and get different pieces of technology working together, like Keap and ResponseSuite, for example.
Jeri also had to learn how to build campaigns and automations, and all this had to happen really quickly. To put things into context, Jeri did all this while going through her cancer treatment, which was intense and challenging. She has to make regular long trips for her treatment, and that means she can't work for a few days a month. She told us she's probably working at about 50% capacity compared to how much she used to be able to do before her diagnosis.
And yet, Jeri works around it. In fact, her story is so poignant because it really shows that if she could learn email marketing while launching a brand new business while having cancer treatment, anyone can. While we think it's a real testament to her character, Jeri shares that all it takes is the ability to look at email marketing methodically. Do one thing at a time and understand you have nothing to lose. Her advice is to set aside most of the things that clog your brain and push on with what you need to do. When you're feeling overwhelmed with your to-do list, just start with one thing, and that will naturally lead to another. Over time, everything will get done – that's how it happened for Jeri. And eventually, with that approach, she was ready to launch.
Starting with ZERO contacts on their email list!
It's also worth mentioning that another barrier that Jeri faced is that they started from zero with their email list. Because Jeri and Darci wanted to create a clear delineation between the two businesses to preserve the integrity of the chiropractor practice, they went stone cold with the new business. They started driving traffic to the weight loss business through TV and radio ads and Facebook marketing. But they initially had zero contacts on their email list.
What was the first thing that Jeri did when she started email marketing?
The first thing Jeri did when she launched her brand new business and started using email marketing was to build campaigns in order to be able to scale their business.
After doing some research in the market, Jeri and Darci started running TV ads in their local area. They invested an initial $6,750 in their TV and radio ads campaign. And they did that despite knowing that competitors in their industry were spending in the region of $12-30k per month to drive traffic to their websites!
But Jeri had been following us for years. So she launched this business believing both in the quality of their product as well as in the effectiveness of email marketing. She knew this was going to work! And she was right. Because in their first month, Jeri and Darci made $27,000 from their initial spend. And Jeri was on vacation for 10 days out of that month!
It definitely worked and paid off, but part of the reason why Jeri didn't want to throw loads more money into ads to start with was that they wanted to make sure that everything worked and was set up correctly.
Driving people to discovery calls
Jeri knew it was simply a matter of nailing the quality of their message and how they were delivering it. So she started bringing brand new contacts into their email engine with the intention of getting more information from them. For example, Jeri and Darci were interested in finding out how old people were, how much weight they wanted to lose, what their activity levels were, etc.
To obtain that information, Jeri started directing people to discovery calls. Their show rate for the calls was at a sky-high 93% compared to around 70-75% for their competitors. So this told Jeri that people were resonating with the language and the message within the emails. And as a result, they felt excited to join the programme.
The Top 10 Books To 'Power Up' Your Email Marketing
10 book recommendations that will improve all areas of your email marketing (including some underground treasures that we stumbled upon which have been game-changing for us).
How Jeri finds out the level of motivation of their prospective clients
Jeri also did something quite interesting with the landing page of their website. People find out about the weight loss programme via TV ads and social media and head over to the website. On the signup page, they find the following three options:
"Do you want more information?"
"I want to book a discovery call."
"I want to start now."
If someone wants more information, all they have to do is to provide their name and email address. But the other two options are really just the same thing – they both take people through the process of booking a discovery call. The only difference between the two is the person's motivation level.
People who just want more information are still wary. Those who want to book a discovery call are interested in taking a look at the programme. But you also have people who are ready to start. And by the time they jump on a discovery call, Jeri and Darci will know how motivated they are.
Is Jeri running loads of sales campaigns?
Another thing that's absolutely mind-blowing is that Jeri only has one sales campaign running at the moment. She has two more in the queue that she's finishing up. But there's no doubt she's been able to build momentum so far. At the time of our chat, Jeri was only 5 days into their second month in business. She told us that the number of discovery calls booked was already double how many they had in the first month.
According to Jeri, this is down to the fact that the longer people stay in the engine, the better qualified they are when they jump on the discovery call. A lot of people tend to book the discovery call on the last email of the Overture campaign, which is one of the campaigns we teach inside our membership The League. Jeri feels that the quality of the conversation they have with subscribers on their list is tenfold what they get with prospective clients who come straight from ads. Not bad, right?
Make More Sales with our Psychology-Based Email Marketing Membership
Psychology-based email marketing.
Complete email campaigns.
Video training.
Group coaching sessions.
Exclusive AutomateHero app.
Subject line of the week
This week's subject line is "I'm now allowed to tell you this… ;-)". The winky face at the end suggests that Rob wasn't being too serious about the fact he's not allowed to tell. With this subject line, he created a lot of compound curiosity. What is he not allowed to tell? Why is he not allowed to tell? And why is he being cheeky about it with the winky face at the end? So check it out!
Useful Episode Resources
Related episodes
How Our Client Hillary-Marie Made $16k With ONE Email Marketing Campaign (And Then Did It Again!)
How Brad 10x'd His Ad Spend In One Month – A Case Study.
And How Kronda Adair Made $86,500 From A Small Email List.
FREE list to improve your email marketing
If you want to write better emails, come up with better content, and move your readers to click and buy, here's how. We put together this list of our Top 10 most highly recommended books that will improve all areas of your email marketing (including some underground treasures that we happened upon, which have been game-changing for us). Grab your FREE list here.
Join our FREE Facebook group
If you want to chat about how you can maximise the value of your email list and make more money from every subscriber, we can help! We know your business is different, so come and hang out in our FREE Facebook group, the Email Marketing Show Community for Course Creators and Coaches. We share a lot of training and resources, and you can talk about what you're up to.
Try ResponseSuite for $1
This week's episode is sponsored by ResponseSuite.com, the survey quiz and application form tool that we created specifically for small businesses like you to integrate with your marketing systems to segment your subscribers and make more sales. Try it out for 14 days for just $1.
Join The League Membership
Not sick of us yet? Every day we hang out in our amazing community of Email Marketing Heroes. We share all of our training and campaigns and a whole bunch of other stuff. If you're looking to learn how to use psychology-driven marketing to level up your email campaigns, come and check out The League Membership. It's the number one place to hang out and grow your email marketing. Best news yet? You can apply everything we talk about in this show.
Subscribe and review The Email Marketing Show podcast
Thanks so much for tuning into the podcast! If you enjoyed this episode (all about how Jeri used email marketing to launch a brand new business) and love the show, we'd really appreciate you subscribing and leaving us a review of the show on your favourite podcast player.
Not only does it let us know you're out there listening, but your feedback helps us to keep creating the most useful episodes so more awesome people like you can discover the podcast.
And please do tell us! If you don't spend time on email marketing, what do you really fill your working days with? We'd love to know!