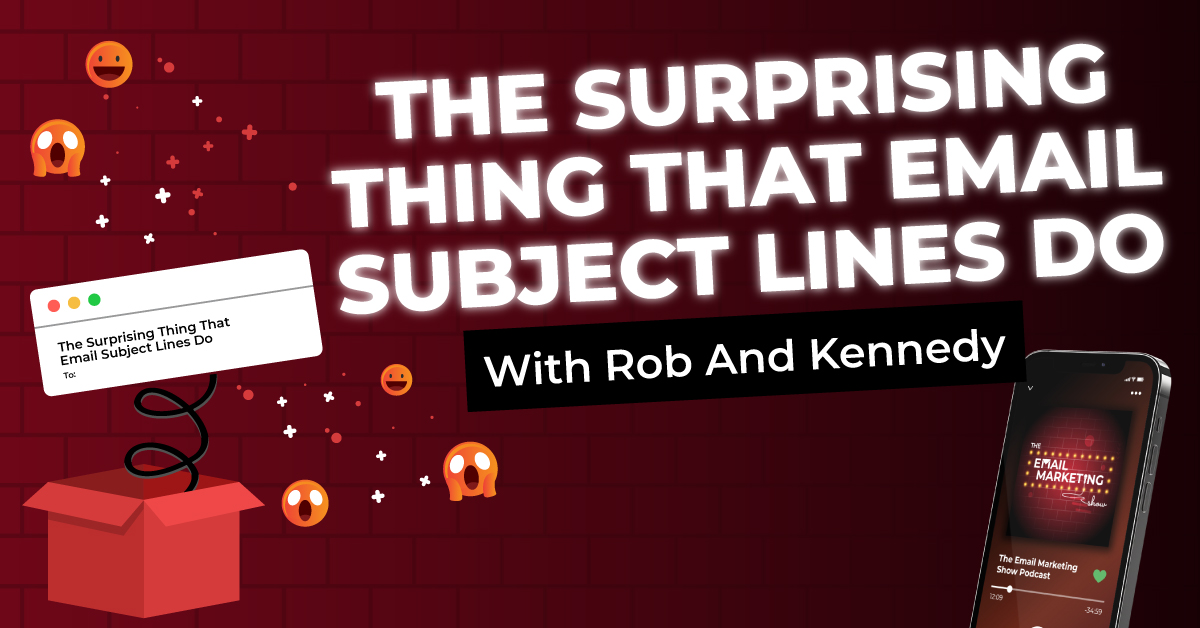 How To Use Email Subject Lines To Do More Than Get Your Emails Opened
Email subject lines.
What do they really do?
Well, unfortunately, they don't make you a nice cuppa or a slice of toast in the morning. But they can do a lot more than just get your emails open. In fact, in this episode, we show you how we've gone out of our way to prove to you that the job of email subject lines is not to get your emails opened.
Ready to have your mind blown by our little experiment?
SOME EPISODE HIGHLIGHTS: 
(3:37) The job of email subject lines is not to get the email opened!
(4:32) The email subject line is the first bit of sales propaganda.
(6:56) How your email subject lines set up the sale.
(7:58) Can email subject lines really impact sales? Our split test experiment.
(9:43) Email subject lines don't just get emails opened - they help you get clicks.
(11:31) Email subject lines can help influence someone's mindset so they become customers.
(12:32) Come and share your best email subject lines in our FREE Facebook group.
(13:10) Subject line of the week.
The Top 10 Books To 'Power Up' Your Email Marketing
10 book recommendations that will improve all areas of your email marketing (including some underground treasures that we stumbled upon which have been game-changing for us).
What is the job of email subject lines?
Why do people obsess over subject lines?
Because it's the thing that's going to get our email opened, right? Well, that's what we've been told since the days of Email Marketing 101 – that you have to write something that's going to get your email opened, and that's its only job.
Bullshit.
Email subject lines do a lot of other things too.
Email subject lines are first impressions
Your email subject line is the first impression someone's going to get about your email.
You know when you get some post through the letterbox, and you look at the thing, and you think it's going to be a bill? Chances are, you'll open that last. Because you don't want to deal with it right now. Of course, if you do open the thing, and it's not a bill, you're going to be pleasantly surprised.
But the opposite is also true (and really not cool). If something doesn't look like a bill and then turns out to be one, you're not going to like it. Not one bit. So remember this. Because your email subject line helps with first impressions, and it needs to set up your email correctly.
If the email is disconnected from the subject line, that's going to damage your chances at making sales in that email (= bad), but it's also going to harm your entire reputation for every email going forward (= even worse!).
So we're not going to do that, are we?
Your email subject lines should set up your sale
If you want someone to buy from you in an email (which you do) the subject line has to start that process. It has to make sure that your subscribers come into that email in the right mindset. Call it the first bit of sales propaganda.
You don't want people to just click on the link to open your attachment or visit your website or your Facebook page. You want them to hit the order button, find their credit or debit card, put in their details, and ultimately become a customer.
Selling is the ultimate objective, and you want your email subject lines to help you make those sales.
Email subject lines don't affect open rates – they make sales
The Simple System That Turns Email Lists Into
Cash-Generating Machines!
Send emails people love receiving.
Write value-packed emails in minutes a day.
Make sales offers as often as every day,
Bottomless content ideas.
Do you believe email subject lines impact sales?
We do.
But we don't want you to just take our word for it. So we've gone and tested this theory for you, and here's what we found. (Drumroll, please!).
We did a split test of our emails, and for a whole month, we sent out the same exact email but with two different subject lines. We then tracked them to see which subject line was generating the most sales.
Sometimes we used completely different email subject lines; other times, we just swapped a word out for an emoji. We made sure that the two emails (let's call them Email A and Email B) sent people to different sales pages so we could see which email the sale came from.
In a couple of cases, we found that both our Email A and our Email B got the same open rate – the same number of people opened that email. But actually, when we dug a little deeper, we noticed that one had a significantly higher click-through rate, even though the email itself looked exactly the same.
So this started to confirm our hypothesis that your email subject lines don't just do the job of getting the email opened, but they do the job of getting it clicked.
What we also started to see is that a higher number of people would click on the link in the email that had a lower open rate. Madness! But if you believe that email subject lines can do a lot more than help your subscribers open your emails, that makes sense. Because subject lines can frame people in such a way that they are more likely to actually become your customers. Pretty awesome, right?
Subject line of the week
screenshot.
That is it.
One word – all in lowercase with a full stop at the end.
Why does it work? Because it's so much closer to a lot of the email subject lines that people send in real life.
Think about it. When you're sending a quick email to a friend, you'll just use one or two words. Short, snappy, and to the point. You've got to put something in the subject line, so you just use the least amount of words to let them know what's in the email. It's as simple as that!
But do you know why it also works? Because you imply there's something in that email. In this case, a screenshot! (Elementary, Watson!) People are curious. They want to know what kind of screenshot is included – a screenshot of what? The minute you imply there's something inside the email, people will want to know what that thing is and click through.
And remember what we said about first impressions – if you promise a screenshot, make sure you deliver one!
Useful Episode Resources
Related episodes
How To Write Email Subject Lines For Sales Emails (That Actually Work)
Writing Subject Lines Without Using Formulas
What should I talk about in my emails? Email marketing content ideas you'll use
Join our FREE Facebook group
We know your business is different, so come and hang out in our FREE Facebook group, the Email Marketing Show Community for Course Creators and Coaches. We share a lot of training and resources, and you can talk about what you're up to.
Try ResponseSuite for $1
This week's episode is sponsored by ResponseSuite.com, the survey quiz and application form tool that we created specifically for small businesses like you to integrate with your marketing systems to segment your subscribers and make more sales. Try it out for 14 days for just $1.
Join The League Membership
Not sick of us yet? Every day we hang out in our amazing community of Email Marketing Heroes, where (aside from planting images of us in spandex in your mind), we help you become the email marketing hero of your business. We also get to share all of our training and campaigns and a whole bunch of other stuff. If you're looking to level up your email marketing, come and check out The League Membership. It's the number one place to hang out and grow your email marketing by applying everything we talk about in this show.
Subscribe and review The Email Marketing Show podcast
Thanks so much for tuning into the podcast! If you enjoyed it, we'd really appreciate you subscribing and leaving us a review of the show on your favourite podcast player.
Not only does it let us know you're out there listening, but your feedback helps us to keep creating the most useful episodes and get discovered by more awesome people like you. So if you enjoyed this episode – and we know you have – make sure you smash that subscribe button!