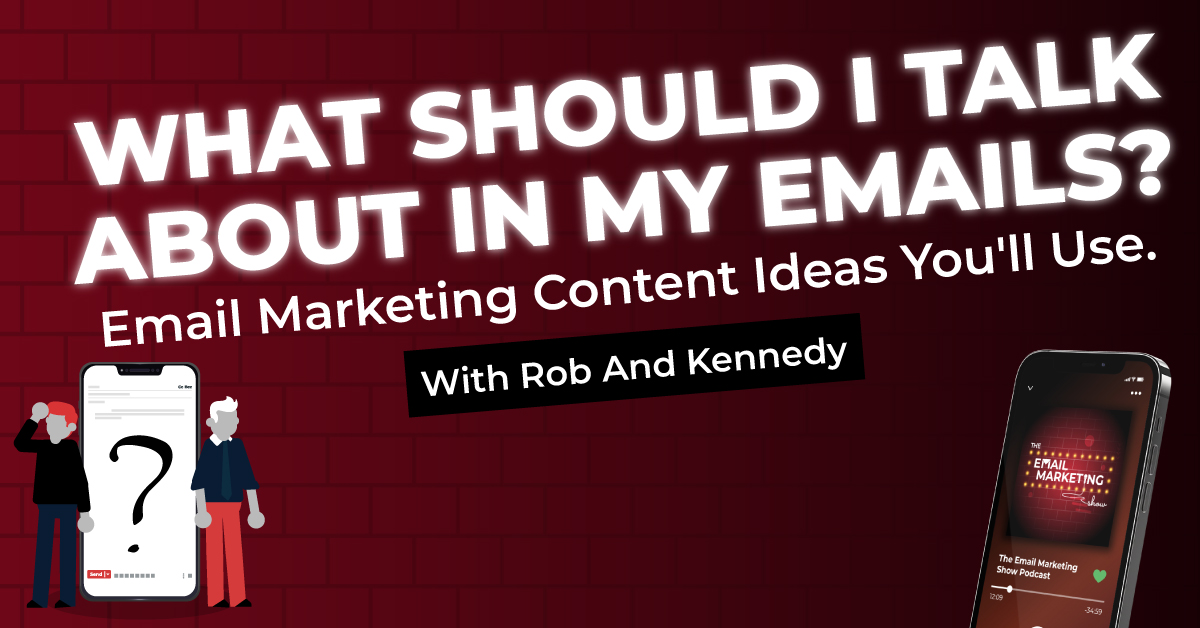 What should I talk about in my emails? Email marketing content ideas you'll use.
So you're an undertaker. An accountant. A photographer. You sell something people don't need to buy every day. So what the hell can you share in your emails? Are you ready to have your mind blown with some cool email marketing content ideas that will make your subscribers absolutely love you?
In this episode, we share the best creative email ideas to help you work out exactly what you should email about.
Ready to find out?
SOME EPISODE HIGHLIGHTS: 
3:00 Why don't we email more often? I"m a hairdresser, undertaker, an accountant 
4:33 Changing the way we think about email 
4:45 Busting the biggest lie You're emails aren't about you 
5:45 The 2 reasons why people  subscribe to your list 
6:15 Email as just another content marketing channel 
7:20 How to write what your audience actually cares about  
9:07 Your products/Services are mechanism for deeper human experiences 
13:09 How to stay top of mind WITHOUT selling everyday 
14:30 The key to get your audience deeply connected to you  
16:05 Subject line of the week... WHO's an asshole?! 
The Top 10 Books To 'Power Up' Your Email Marketing
10 book recommendations that will improve all areas of your email marketing (including some underground treasures that we stumbled upon which have been game-changing for us).
Your business is different so what should you send in your email marketing?
Sure, your business is different. Every business is different. And you might think it's easy for us to email our subscribers every single day of the year (yes, 365 days a year, if not more!) because we teach email marketing.
Maybe you teach something different, or maybe you don't teach anything at all.
And that's fine. But that doesn't mean you can't email every single day too.
You just need to start thinking about your content a little differently. And that's fine too because, as we always say, 99% of email marketing out there is done wrong! And we're here to fix it – to change the way we all do email marketing.
So the first myth we need to bust is this…
Want to write effective email marketing content?
Your emails shouldn't be about what you do.
Come again?
Yes, you read that right.
Guess what? We don't email every single day about email marketing. And you shouldn't email every single day about what it is that you do either. That isn't the point.
Sure, you're going to weave that in. You're going to let your audience know about your product or service and about how they can buy from you. But people are on your email list because they want to find out more about the things they care about.
So your emails need to serve two purposes:
They need to sell your stuff.
They need to deliver value.
And you do this by showing up and providing content to your audience.
Email marketing is just another platform to reach your audience so use it!
When you think about it, if you share any content at all – on social media, via a blog, a podcast, etc. – you're using different channels. You're taking advantage of different ways to reach your audience.
Email is just another way. It's just another channel.
So why not use it as often as you use the other channels?
People check their emails through apps on their phones, just like they check Instagram or Facebook. They might even have push notifications on.
So all you're doing by sending out emails is delivering content to them in a different way. Nothing wrong with that, right?
Email marketing content ideas that work!
If you're not emailing about what you sell, then what on Earth are we asking you to email about?
Well, that's up to you to figure out. You need to work out what your audience cares about. What do you and your audience have in common?
For example, if you're a photographer specialising in family portraits, your service is a tool to deliver connection, strengthen family bonds, and create memories.
So there are lots of ways you can deliver value to your subscribers, even when they're not ready to hire you just yet. You can talk about days out with the kids or activities to do at home with the family. What your audience cares about is stuff to do with the family, so think about delivering value around that. Because these are the email marketing ideas that will make ALL the difference!
Now, let's say you're a corporate headshot photographer or a product photographer. What you're delivering is branding, marketing, positioning. Your expertise is around making someone or something look as good as they possibly can. So show up every day talking about the importance of aesthetics, share cool tips or studies – whatever works.
Best thing is? These are the things your audience cares about, but they're probably the things you love too. So this should be a total doddle for you!
The Simple System That Turns Email Lists Into
Cash-Generating Machines!
Send emails people love receiving.
Write value-packed emails in minutes a day.
Make sales offers as often as every day,
Bottomless content ideas.
How to be front of mind when someone's ready to buy
So we've established you don't email people every day talking about what you're selling. You're emailing people about stuff they care about. Now, this doesn't mean they will buy from you every day. Far from it. What if you sell products or services people only need once? Should you not email every day?
Oh, you definitely should.
Because your job is to stay front of mind. So when someone is ready to buy from you, either for themselves or for someone else, you're there. Top. Of. Mind.
Turn your email marketing content ideas into stories
Once you've figured out what you can share with your audience, turn that stuff into stories. Because the minute you start telling stories, people put themselves into it – they see that story in the first person. They start to emote with it. They start to feel emotions, rather than just seeing a list of instructions or a bunch of facts that, frankly, no one is going to remember.
So, no matter what you sell, how often people need to buy it from you, or how much it costs, figure out what your audience cares about, show up in their inboxes as often as possible, deliver value, and people will love you for it.
Subject line of the week
This week's subject line of the week is "This guy is an asshole".
The reason why this works?
Well, obviously because we want to know who's been bad. We want to know who it is, what they've done, and whether we agree with you. You can see that a lot of questions are being evoked through these simple 5 words.
Useful Episode Resources
Related episodes
Writing Subject Lines Without Using Formulas
5 Types of Content That Creates Buyers and 'Assignment Selling' with Marcus Sheridan
Write Emails Like A Boss – Even If You Think You're A Crap Writer
Join our FREE Facebook group
We know your business is different, so come and hang out in our FREE Facebook group, the Email Marketing Show Community for Course Creators and Coaches. We share a lot of training and resources, and you can talk about what you're up to.
Try ResponseSuite for $1
This week's episode is sponsored by ResponseSuite.com, the survey quiz and application form tool that we created specifically for small businesses like you to integrate with your marketing systems to segment your subscribers and make more sales. Try it out for 14 days for just $1.
Join The League Membership
Not sick of us yet? Every day we hang out in our amazing community of Email Marketing Heroes, where we get to share all of our training and campaigns and a whole bunch of other stuff. If you're looking to level up your email marketing, come and check out The League Membership. It's the number one place to hang out and grow your email marketing by applying everything we talk about in this show.
Subscribe and review The Email Marketing Show podcast
Thanks so much for tuning into the podcast! If you enjoyed this episode with cool email marketing content ideas and love the show, we'd really appreciate you subscribing and leaving us a review of the show on your favourite podcast player.
Not only does it let us know you're out there listening, but your feedback helps us to keep creating the most useful episodes and get discovered by more awesome people like you.