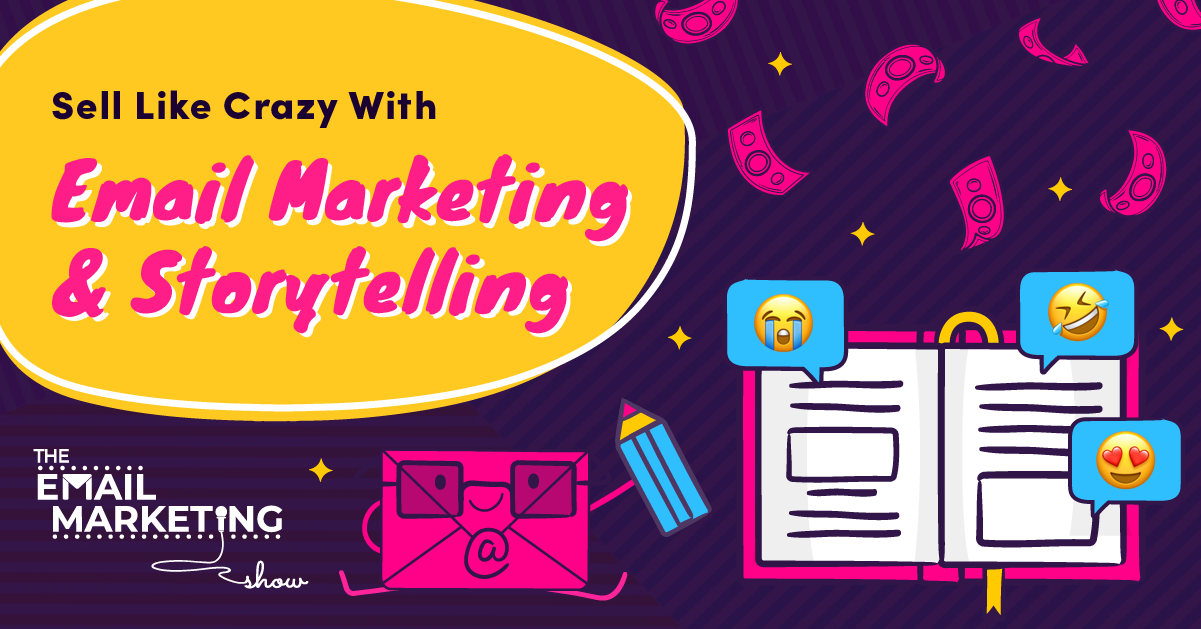 EVERYTHING You Need To Know About Email Marketing And Storytelling To Write Emails That Sell Like Crazy
How do email marketing and storytelling go together? Should you share stories in your emails? If so, when and how? What type of stories should you tell and where does the inspiration come from? Also, when is it not good to tell a story?
Want the Secret Sauce on all this?
Let's get it!
SOME EPISODE HIGHLIGHTS: 

(0:12) Want a FREE resource to get more clicks on your emails? Check out Click Tricks.
(4:39) Why do we need to tell stories in our emails?
(6:41) More reasons to tell stories in your emails.
(8:31) What if you're in a more serious and 'boring' industry?
(10:33) What makes a good email marketing story?
(12:46) What are some tips to help you get started?
(15:01) Common mistakes people make when telling stories through email (and how to fix them).
(17:06) How often should you use stories in your emails?
(17:33) Learn how to use storytelling in your email marketing inside The League.
(17:57) Subject line of the week.
Why do we need to tell stories in our emails?
You probably already know by now that our whole approach to email marketing is story-driven. In other words, we try and weave some storytelling into almost every email we send (with a couple of exceptions). One of the big reasons is that there are only so many things you can say or so many ways you can talk about the product or service you sell. But there are unlimited stories you can relate to your offer and to the problem that your product solves.
Case in point, as Rob was thinking about the idea for a story based on something that happened to him recently, he realised that the lesson he'd pulled out of the story was the same one he'd taught in the email from the day before. And that's okay! Because the lesson may have been the same, but it was framed in a different way because the story was different. Plus, not everyone would have seen Rob's email from the previous day. And even if they had, some people might relate more to one story and not the other.
This means you could potentially have the same lesson every day but frame it with a different story. And that's great if you think about it. Because there are only so many core lessons you can teach or things someone needs to learn before they buy your product. And if you can only talk about a limited set of features and benefits, you'll run out of things to say! So storytelling allows you to continue to talk about your product and what it does in different ways.
More reasons to tell stories in your emails
Another benefit of storytelling is that stories are usually about things that are happening or have happened in your life. So using stories helps you build rapport with your audience – it means they can get to know you. That's also why we share interesting, silly facts about ourselves at the start of each podcast episode. Because people get to learn more about us, and this helps us become three-dimensional. We're not just the people who talk about email marketing all the time – we're real people doing things with our families and living our lives outside of work like everyone else.
The other reason why we love storytelling is that people emote with stories. And this doesn't happen with facts, features, or benefits, for example. On the other hand, with stories, you can make people feel different emotions – afraid, anxious, excited, etc. Plus, physically, stories take up more space in people's heads and brains than pretty much any other medium.
What if you're in a more serious or 'boring' industry?
One thing we can tell you from experience is that storytelling works for everything and everyone. It doesn't matter whether you're in a serious, 'boring', dry industry where you don't think your audience cares about stories. We've helped businesses in the government space, insurance, accountancy, and other niches that are quite dry, and we know storytelling works for them too. Because, ultimately, we are humans in a human's inbox, and these people want to hear from you!
So what if everyone else in your industry is dry and boring? Even better! It means you can stand out by sharing stories and becoming the most engaging email marketer in your industry. That's the experience you can create through storytelling. And it doesn't mean you have to be wacky and funny in everything (if that's not your brand). But you can at least be interesting.
People like reading stories, and if you're a 'faceless' brand or a big corporation, you can still pick someone within your team to be the face of your brand. In fact, make a point of sending your emails from yourself or a member of your team because people buy into the person behind the brand. Look at Virgin, for example. Even a huge, massive, multi-vertical brand has a face to it through Richard Branson. And it's one of the best decisions they've ever made. So make things personal.
What makes a good email marketing story?
A good story has to either:
Share something new – for example, teach something people didn't know.
Or include something relatable that makes them ask themselves what they'd do in that situation.
For example, when flying back from hosting a masterclass in Portugal, we were asked to switch off our phones. Why? Apparently, every 30 days, in order to continue to be certified, a plane has to land automatically. And for that, phones need to be completely switched off (not in flight mode). So if we were to put that story in an email, we might be teaching our audience something new.
The other type of content is relatable content, just like the stories that comedians tend to use. And by that, we don't mean you have to be funny – not if you or your brand aren't funny. Relatable content allows people to agree with you and understand the point you're making.
The Top 10 Books To 'Power Up' Your Email Marketing
10 book recommendations that will improve all areas of your email marketing (including some underground treasures that we stumbled upon which have been game-changing for us).
What are some tips to help you get started?
The first tip we can give you is to be observant in your everyday life. If something happens to you, think about how you can turn that into a story and share a lesson from it.
We find it's often helpful to think about the first or last time you did something. Or the best or worst experience you had with that thing. Or maybe the scariest or the funniest? You get the gist.
Just remember that any time something happens to you, you can turn that into a story. So look at the little things that happen to you on a daily basis and start getting into the mindset of getting a story out of them. All the observations you make in the world around you can become prompts for the stories in your emails. And that's all you need.
Common mistakes people make when telling stories through email (and how to fix them)
One of the mistakes we see people make all the time is to waffle on too much at the beginning of the story. Don't do that. You don't need long introductions or formalities. And also, consider removing bits of the story itself. If you're going to tell a story about something that happened on a plane, don't start from when you got to the airport (unless that's what the story is about).
A journalistic trick we learnt from our friend Janet Murray is to first write the story, and then chop off the whole beginning. In other words, start from the action and make the story more exciting.
Another mistake is to make assumptions that your audience must know who you are and everything you've ever done and that they must have read all your emails. They don't.
Also, don't assume that your audience is familiar with the jargon and technical terms you use in your industry – because they might not. So make everything as simple and basic as you possibly can. Assume this is the first email that person's ever received from you. That way, you'll be able to explain stuff better.
And that doesn't mean you can't take shortcuts. For example, Rob will often say in his emails that he took Alfie for a walk. He might mention leash training, for example, so even if people don't know, they will assume Alfie is a dog. He implies connection without assuming knowledge. Through the wording you chose, you allow people to have the knowledge without assuming they necessarily know everything about you.
How often should you use stories in your emails?
While you want to use stories in most emails, you don't have to use them in all your emails. We don't use stories in the emails that are 'coming down the wire', such as the last email of a launch when the cart is about to close, for example. And we don't use stories in our 'seed emails', which are the ones we send at the very start of a new email campaign.
Learn how to use storytelling in your email marketing inside The League
If you want to learn our entire story framework and look at all the email campaigns we teach inside our membership that include stories, come and join us! You get access to our full training on our Bottomless Email Strategy and all our email campaigns. Plus, you learn how to write emails that convert like crazy inside our membership The League.
Make More Sales with our Psychology-Based Email Marketing Membership
Psychology-based email marketing.
Complete email campaigns.
Video training.
Group coaching sessions.
Exclusive AutomateHero app.
Subject line of the week
This week's subject line is "Cash withdrawal (declined)." This one's interesting because people want to know what happened. Did Rob have no money? It sounds like the sort of juicy, negative subject line that works and sells, just like in the news.
And this email was about the fact that everyone thinks of their email list as this cash machine they can just 'withdraw cash from'. But actually, most people find that not to be the case. And our email shared how to fix that. So check that out!
Useful Episode Resources
Related episodes
Comedian's Secrets to Storytelling – With Kevin Rogers.
The Biggest Mistakes You're Making With Your Email Marketing Copywriting.
How To Get Your Customers To Buy Using Buyer Psychology In Email Marketing.
FREE list to improve your email marketing
If you want to write better emails, come up with better content, and move your readers to click and buy, here's how. We put together this list of our Top 10 most highly recommended books that will improve all areas of your email marketing (including some underground treasures that we happened upon, which have been game-changing for us). Grab your FREE list here.
Join our FREE Facebook group
If you want to chat about how you can maximise the value of your email list and make more money from every subscriber, we can help! We know your business is different, so come and hang out in our FREE Facebook group, the Email Marketing Show Community for Course Creators and Coaches. We share a lot of training and resources, and you can talk about what you're up to.
Try ResponseSuite for $1
This week's episode is sponsored by ResponseSuite.com, the survey quiz and application form tool that we created specifically for small businesses like you to integrate with your marketing systems to segment your subscribers and make more sales. Try it out for 14 days for just $1.
Join The League Membership
Not sick of us yet? Every day we hang out in our amazing community of Email Marketing Heroes. We share all of our training and campaigns and a whole bunch of other stuff. If you're looking to learn how to use psychology-driven marketing to level up your email campaigns, come and check out The League Membership. It's the number one place to hang out and grow your email marketing. Best news yet? You can apply everything we talk about in this show.
Subscribe and review The Email Marketing Show podcast
Thanks so much for tuning into the podcast! If you enjoyed this episode (all about email marketing and storytelling) and love the show, we'd really appreciate you subscribing and leaving us a review of the show on your favourite podcast player.
Not only does it let us know you're out there listening, but your feedback helps us to keep creating the most useful episodes so more awesome people like you can discover the podcast.
And please do tell us! If you don't spend time on email marketing, what do you really fill your working days with? We'd love to know!