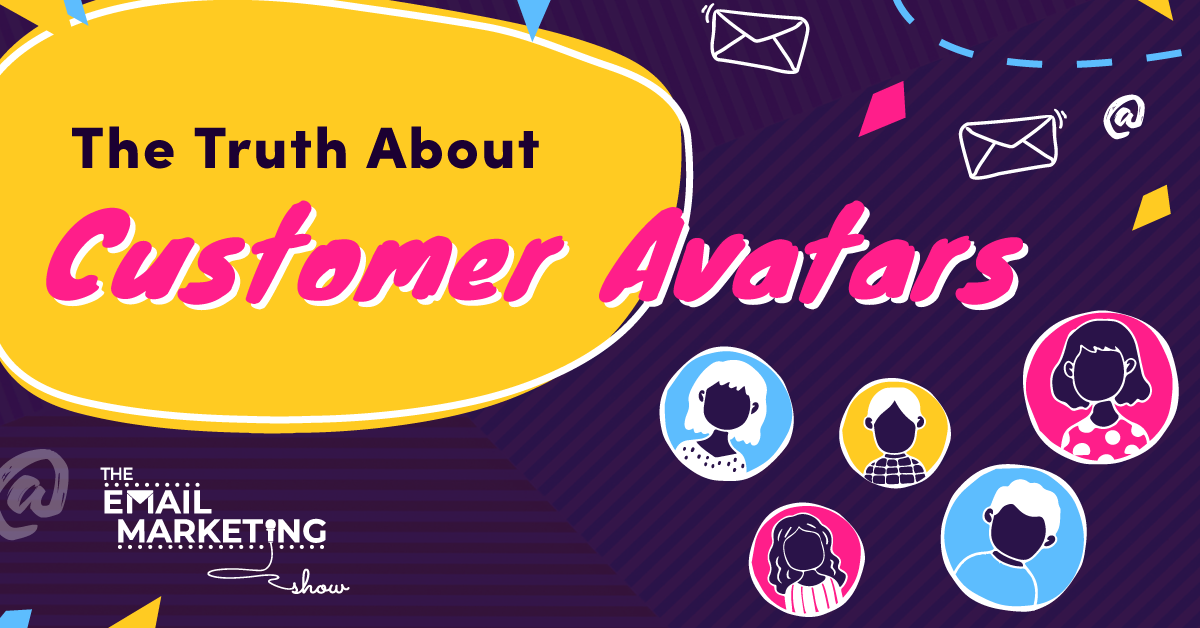 What We Really Think About Customer Avatars
Do you use a single customer avatar in your business? Today we're sharing what we really think about customer avatars, why they don't work, and what you want to use instead.
If you think (or have been led to believe) that customer avatars are the end-all and be-all, you seriously need to find out about this instead!
SOME EPISODE HIGHLIGHTS: 

(0:16) Want to make your sales from your email marketing? Grab our Click Tricks.
(4:14) You can't create a customer avatar before you have an audience.
(6:24) An educated guess is NOT a customer avatar. 
(7:19) Create a business you actually like.
(8:22) Who is our audience made up of?
(10:00) Introducing the idea of segmentation.
(11:58) Create Dynamic Customer Journeys. 
(14:14) No business is sustainable with only ONE avatar.
(16:04) Segmentation doesn't need to be overwhelming.
(18:08) Subject line of the week.
Want to get more sales from your email marketing?
We put a little something together for you. It's really cool and it's FREE (yes, it's cool and free – we're nice like that). If you want to make more sales from your email marketing, you need more clicks on the things that you're selling!
That's why we're giving you 12 creative ways to help you get more clicks in every email you send. It's a FREE download, and it's called Click Tricks. You can grab it here.
You can't create a customer avatar before you have an audience
The idea of customer avatars has been around for a long time. In fact, it's often the first module of every marketing course you'll ever take. And apparently, it's all about getting a piece of paper, thinking about a customer avatar, and giving it a name. Is it, though? Because by the end of this exercise you can't be sure whether your avatar is true or you've made things up!
So if like us, you find this idea or task really hard and demotivating, you'll be pleased to know that creating a customer avatar is something you can do retrospectively when you already have an audience. It's impossible to create a customer avatar before you have an audience. Because all you're doing then it's guessing!
There. We said it.
An educated guess is NOT a customer avatar
And sure – you can make educated guesses. If you teach long-distance running, you're going to know certain things about your audience. Maybe you only teach men, so you'll know your clients will be men and probably in a certain age bracket.
That's an educated guess. But it's not a full customer avatar. And it's not going to be useful information when you're starting a business and trying to figure things out. So creating a customer avatar is something you do once you already have an audience. Otherwise, you're probably going to be paralysed by the details around what colour hair your ideal client has! And does it even matter? No, it doesn't.
Create a business you actually like
Creating a customer avatar and sticking with it at all costs also means you might end up with an audience you don't like. The people you're intending to serve might be profitable, but you may not like them very much.
So what we do instead is to put our products on the Internet (we know they're good) and then see who resonates with them. In turn, this might then give you an idea of what your market might be.
For example, we knew we wanted to sell to people who create courses, memberships, and coaching on the Internet – in other words, small businesses. We're not selling to big corporations – we know that. Sure, if any stumble across our http://www.gulfportpharmacy.com products, that's fine. But that's not who we're going for.
And we definitely didn't refine our audience and customer avatar to the point of establishing whether they were men or women and what market they were in. Instead, we started putting content on the Internet that was aimed at anyone who's ever thought about selling a course – content that would appeal to somebody. And then we started paying attention to who it appealed to.
Who is our audience made up of?
So, retrospectively, we now know that most of our audience falls into these categories. Most of them are:
Female.
Between the ages of 35-55.
Married with kids.
In the US, the UK, Australia, and Canada.
And they're experts in what they do.
That's mainly who we're talking to. But we didn't choose to appeal to women. We run ads to everyone, and women responded more. We do training and events for communities of men and women, and women responded more.
Having said that, we also have customers who don't fall into any of these categories. And that's where the idea of a customer avatar falls over. Because we can't say we're only going to sell to these people. So instead, we're putting out content and drawing in who's naturally interested and alienating who isn't. Doing this is going to save you time and help you create a business you like.
Rob, for example, used to do a radio show for a local station, and their listener avatar was a 35-year-old housewife called Jane. Every meeting was structured around what Jane would want and like. But that doesn't mean that what Jane likes is what you like and want to create. So create what you want and let that draw in the audience who are naturally drawn to you.
The Top 10 Books To 'Power Up' Your Email Marketing
10 book recommendations that will improve all areas of your email marketing (including some underground treasures that we stumbled upon which have been game-changing for us).
Introducing the idea of segmentation
Another thing that's worth remembering is that we're all individuals. Just like Kennedy's dad used to say, "Labels are for tins." We don't have to label everything. So, rather than creating content that appeals to just one customer avatar and alienates people who'd be amazing customers for you, what you want to do is to find out what category your customers fall into and send them different emails. In other words, you want to make sure you're routing people down different paths based on who they are and what they're doing. And this is where we look at segmenting.
For example, when somebody comes into our business, one of the first things we do is to find out a bit more about them. If we were teaching fitness, for example, we'd want to know if they're male or female, what age they are, and what their goals are. Once we know all that, we can send these people through different paths.
And sometimes you'll bring in people who you can't help, and that's okay – it happens in all businesses. But this also means that you get to serve the people you bring in in the best possible way.
We have a couple of episodes on segmentation, so if you're interested in this topic, go check them out: 
Create Dynamic Customer Journeys
What we do instead of using customer avatars in our business is to create what we call Dynamic Customer Journeys. This means creating forks in the road, or points at which people get to choose other crossroads.
And there's a simple way to do this – you ask people what situation they're currently in. And they let you know by clicking a link, replying to an email, completing a survey, or filling out a poll.
Once you know what category they fall into and what problem they currently need help with, you show them content that helps them in that situation. So even if someone decides to go down one route right now and then chooses a different one later, you'll be able to create a unique journey for that person.
Because you're collecting data about your customers, when you're about to send an email about a new offer, you'll first need to decide which category of people needs to hear about it. There will be people who definitely don't need to hear about it, so include the ones who do and exclude those who don't. That way, everyone's getting the perfect message for them because they're on a Dynamic Customer Journey.
And by doing this, you also increase engagement because people will get content that's relevant to them. And we all know we disengage from something if we feel it's not relevant! 
No business is sustainable with only ONE customer avatar
One of the members of The League, Hillary-Marie, teaches tap dancing to people who want to learn and to instructors who teach tap dancing themselves. So she has two different categories. Had she gone down the customer avatar route and chosen just the one, things wouldn't have worked out as well as they did for her business.
Because different categories are interested in different types of content, she can draw them all in through segmentation and say what she needs to say to different people. Also, among the people who are learning to tap dance, there are different levels – from the beginners to the advanced crowd who are looking for mastery and refinement. There will also be local people who are interested in an in-person class and others who will want to consume online content instead. 
This proves that no business is sustainably global with one customer avatar – you need different profiles (with different nuances) to sell to. If you think about the fact that Facebook collects 52,000 data points on every single person, that tells you that trying to shoehorn everybody into one category (or customer avatar) doesn't work. So put content on the Internet that you're interested in and build a business you like with the people you like working with.
Segmentation doesn't need to be overwhelming
Segmentation sounds overwhelming, but it's really simple. It's about collecting data about your customers, and it means that every time you want to send an email or launch a new sequence or a programme, you'll know which people to get in front of because they're interested in buying. All you need to do at that point is to find the people on your list that meet the right criteria (based on the data points you've collected) and only email them. So rather than customer avatars, think about Dynamic Customer Journeys. Involve the people who check all the boxes and exclude the ones who don't. 
If you want more information on this, we have a couple of cool resources inside our membership, The League. We go in-depth on how to create Dynamic Customer Journeys for small businesses, just like us (and you don't need big teams of data people for this to work). One of the resources is called Survey Funnels, and it teaches you interesting and innovative ways of using surveys.
Plus, we give you campaigns for you to copy and paste and deploy for yourself. Some of them use segmentation to make sure you're only targeting the people who are most likely to buy. So check out The League if you aren't already a member. And if you are, go and get stuck in! 
Make More Sales with our Psychology-Based Email Marketing Membership
Psychology-based email marketing.
Complete email campaigns.
Video training.
Group coaching sessions.
Exclusive AutomateHero app.
Subject line of the week
This week's subject line is "I forgot to tell you…" This has a couple of things going for it. First of all, it has curiosity built into it. What did you forget to tell me? And why is it important?
But also, it doesn't look like a marketing email. If you scan through your inbox, you'll notice that most subject lines sent from your friends and family are very bland and straight to the point because most people don't think too much about them. They'll just take a few words that relate to what the email is about and move on. The marketing ones, on the other hand, tend to be more catchy and interesting.  
So sending something like this helps you cut through the noise of all the marketing – it's direct and grabs people's attention because it could be coming from their friends and family. Plus, it has a bit of curiosity added on. Try it out!
Useful Episode Resources
Related episodes
6 Techniques To Segment Your Email Subscribers.
When Is It Too Early to Segment Your Email Subscribers?
Advanced Psychology: Using Compound Curiosity.
FREE list of the top 10 books to improve your email marketing
If you want to write better emails, come up with better content, and move your readers to click and buy, here's how. We put together this list of our Top 10 most highly recommended books that will improve all areas of your email marketing (including some underground treasures that we happened upon, which have been game-changing for us). Grab your FREE list here. 
Join our FREE Facebook group
If you want to chat about how you can maximise the value of your email list and make more money from every subscriber, we can help! We know your business is different, so come and hang out in our FREE Facebook group, the Email Marketing Show Community for Course Creators and Coaches. We share a lot of training and resources, and you can talk about what you're up to.
Try ResponseSuite for $1
This week's episode is sponsored by ResponseSuite.com, the survey quiz and application form tool that we created specifically for small businesses like you to integrate with your marketing systems to segment your subscribers and make more sales. Try it out for 14 days for just $1.
Join The League Membership
Not sick of us yet? Every day we hang out in our amazing community of Email Marketing Heroes. We share all of our training and campaigns and a whole bunch of other stuff. If you're looking to learn how to use psychology-driven marketing to level up your email campaigns, come and check out The League Membership. It's the number one place to hang out and grow your email marketing. Best news yet? You can apply everything we talk about in this show.
Subscribe and review The Email Marketing Show podcast
Thanks so much for tuning into the podcast! If you enjoyed this episode (all about why you can't just have one customer avatar and what you need instead) and love the show, we'd really appreciate you subscribing and leaving us a review of the show on your favourite podcast player.
Not only does it let us know you're out there listening, but your feedback helps us to keep creating the most useful episodes so more awesome people like you can discover the podcast. 
And please do tell us! If you don't spend time on email marketing, what do you really fill your working days with? We'd love to know!