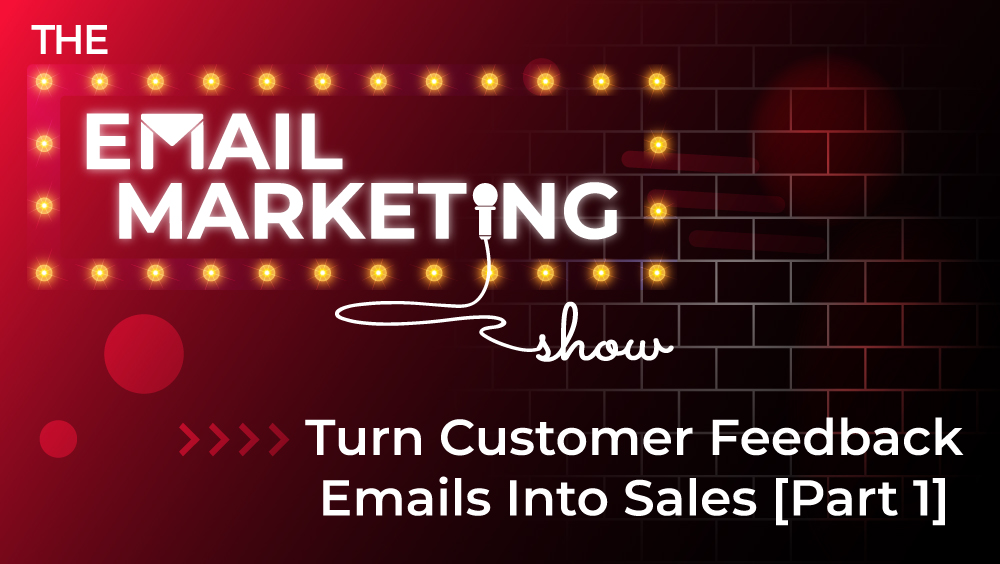 Turn Customer Feedback Emails Into Sales [Part 1]
This episode is a little different as we're not talking about the emails you send to your subscribers, but instead the emails that they send to you. That's right, we're talking about how to get those customer feedback emails from your subscribers and what to do with them when you do.
Fun Fact
The Return Of Customer Feedback Emails
Handling Customer Feedback Emails
Email Conversation vs. Customer Support
Listeners Question
The world of email marketing has almost gone full circle when it comes to email broadcast replies. When we started out in online marketing over ten years ago, you could send a reply to someone's broadcast email and you would actually get a personal reply back.
Then there was the phase when productivity was at the top of everyone's list and suddenly everyone had an assistant, and as a result of that, a lot of people became very distant from their own emails.
Now we're back in that place of being encouraged to get connected with our subscribers again, and what a warm and friendly place it is!
Fun Fact
When Rob was just a young baby marketer he struggled to pronounce the letter 'g' which resulted in 'pids' and 'dods'!
Now that we've all had a giggle at that one, let's get into the juicy stuff…
The Return Of Customer Feedback Emails
We now live in a world where you can literally see what the top celebrities in the world are eating for breakfast via their social media accounts. You can binge on celebrity lifestyle and feel more connected than ever to the big business names that you look up to.
The advantage we have here is that our audiences are much smaller which means it's so much easier to make them feel connected and important. As the expert industry we need to make ourselves more available to our audience, let them be drawn in and get to know you.
Trust is at an all-time low in the online world so you need to do everything you can as businesses to show people that you're real and that you're genuine! We call it becoming 3D, and that includes replying to emails personally.
Handling Customer Feedback Emails
The first option would be to set up a support desk for all your email replies to land in so that you can filter them easily and respond to them. You need to be careful that you don't have a 'corporate' auto-response set up on this though as this can confuse people and really detract from the personal element.
Another option would be to create a separate email folder for all your broadcast email replies to filter into. This means they all go to one central location and you can easily see if you have any email replies without having to log in to a different system.
Email Conversation vs. Customer Support
It's usually a good idea to set some mental parameters as to what you consider to be email conversation versus what you consider to be actual customer support.
You don't really want to be sending our broadcast emails and people using that as an opportunity to reply with a totally unrelated support question. In that case, you should really forward those customer emails over to your support desk.
Listeners Question
Watch the full episode right here.
What's the best way to re-engage inactive subscribers and get them reading your email content again?

Neil Whitfield – Small Business Big Ideas
Kennedy: The first thing to do when you're setting up your email campaigns is to put a re-engagement sequence in place. The idea is that after a certain number of disengagement points (days not opening emails or clicking links) then you put them straight into your re-engagement campaign. The only point of this campaign is to re-engage people so during this time they shouldn't be receiving any other emails from you.
Rob: One of our favourite things to add to the re-engagement campaign is a survey. A quick simple survey asking them what their biggest challenge is and how you can help them. Then you can use that feedback to tag and segment people so that you can treat them differently when they do re-engage. If you just continue emailing them in the same way you did previously, they'll simply disengage again!